Prepare to play your best golf by doing something now!



Tom's Featured Tip: Working On Your Swing in The Off Season
Tour Greens: Tour Quality Synthetic Greens
Tom's Bonus Tip: Putter Sole Design Variance
Lesson Comments: What Students Have To Say
Sponsors: Plum Creek Driving Range
Batavia Country Club
Pre-Pay For 2018 membership now, and the rest of 2017 is included!
Tour Greens Western New York
Chestnut Hill Country Club


Click here: INDOOR GOLF LESSONS for details on how to improve your game over the winter.

Plum Creek Driving Range, Batavia, NY, Open All Year
Simulator Course Play Specials: BataviaGolf.com Call 585-993-0930 or Email Mark to reserve simulator time!

Buy Gift Certificates for Lessons Sample Gift Certificate

Golf lessons - Outdoor and Indoor - are available at Plum Creek, please call me at 716 474 3005, email me at ttucker@rochester.rr.com, or visit my website at http://www.tomtuckergolf.com/lessonrates.html for details.

Subscribe - http://www.tomtuckergolf.com/signup.html If you like this newsletter, please do me a favor and forward it to your friends so that they may subscribe, thanks!

The Unsubscribe link is at the bottom of this newsletter.



---


Tom's Featured Tip: Working On Your Swing in The Off Season

For simplicity, all advice on actual swings or drills is provided from a right handed perspective.

I had an interesting conversation with a student of mine - a mid handicap player - about what he should do over the winter to improve his game. He had intended to go to a place where there is a simulator and basically analyze everything after every swing.

I nixed that idea, because if you are working on technique you'll actually be wasting a lot of time and learning reps doing it that way.

The first thing I recommended was getting a 9 foot indoor putting ramp, and practicing putting and short chips twice weekly. I believe that I mentioned before that I have and use the one shown here: Tour Links 9 Ft. Training Aid I use my SquareStrike™ training aid with it, and I can also practice 5 foot chips with it off a chipping mat.

For full swing practice, I favor hitting into a net or a simulator cage, but not with a lot of stats analysis after each swing.

I favor simply hitting into an indoor net while practicing perfect technique without paying too much attention to the results for the first half of your winter practice. Then for the second half of your off season practice, pay more attention to your target accuracy.

That's what I actually like about indoor practice, that the student isn't as results oriented as if he or she was hitting balls outdoors. From an instructors perspective I see that they can concentrate a little more on pure technique.

The concentration is on good movement patterns, not target awareness. It definitely frees up the swing.

Thatís why our colder months are advantageous for separating movement patterns from actual playing outcomes, and really focusing on the quality of movement and building better technique.

If you remove the outcome, you can become totally focused on changing the pattern.

When it comes around to next year's golf season again, everything should be more automatic, then you can focus on target awareness and scoring as opposed to building swing technique.

If you are planning on working on your swing technique this winter, try this you'll like it. If you need some instruction to make sure that your technique is sound, contact me to schedule a lesson.

Comments: ttucker@rochester.rr.com

Love your practice, own your swing, own your health,

Tom



---


Tour Greens: Tour Quality Synthetic Greens For Superb Short Game Practice

Our customers love their practice greens, here's what they have to say: Testimonials

Click on the image below for a video demonstration of how well golf shots hold on our Tour Greens synthetic putting greens.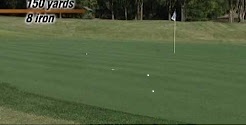 Wouldn't you love one of these in your own back yard?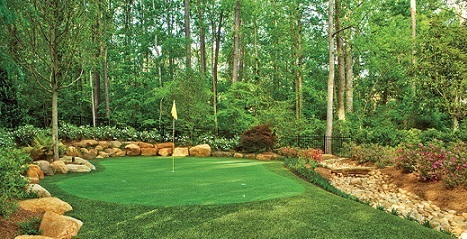 If you would like a free, no obligation quote for getting a beautiful practice area or putting green installed on your property - indoors or outdoors - give me (Tom Tucker) a call at (716) 474-3005, or email at at ttucker@rochester.rr.com

For more information please click here: TourGreensWNY.com

Comments: ttucker@rochester.rr.com

Love your practice, own your swing, own your health,

Tom



---


Tom's Bonus Tip: Putter Sole Design Variance

For simplicity, all advice on actual swings or drills is provided from a right handed perspective.

Here's something that you may not have been aware of - that there are potential sources of error built into the sole design of some putters.

A relatively flat sole from toe to heel on the putter will tend to make you set up into a fixed lie angle, without any compensation for slightly different personal preferences - like how close you carry your hands to your body.

If the ball is about 8 inches away from your toe line with your eyes generally over the ball and with relaxed but relatively straight arms, the lie angle of the putter will be very close to 72 degrees.

That's considered to be standard, but with a lot of things in putting there is a lot of room for personal preference without necessarily sacrificing good results.

A putter designed with a proper radius on the sole (a curved sole) from toe to heel will allow for up to several degrees - plus or minus - of personal preference at setup on a flat surface keeping the golfer in their personal setup comfort zone.

A proper (for you) sole radius can reduce the sources of error in the putter itself.

Another plus is that a putter with a radiused sole will not snag during the stroke when the ball is on a side hill slope.

Don't be afraid to experiment if you have a flat soled putter that doesn't seem to fit your setup.

Comments: ttucker@rochester.rr.com

Love your practice, own your swing, own your health,

Tom



---



Golf Lessons

I conduct lessons at The Plum Creek Driving Range & Practice Facility
there's a link for Plum Creek info here: http://www.tomtuckergolf.com/

Lessons are available for all ages and skill levels, please contact
me - Tom Tucker - at (716) 474 3005 or email me at ttucker@rochester.rr.com
for more information.

Outdoor Lessons Details and Rates:
http://www.tomtuckergolf.com/lessonrates.html

Indoor Lessons Details and Rates:
http://www.tomtuckergolf.com/indoor.html

Driver Fitting Rates:
http://www.tomtuckergolf.com/indoor.html

Testimonials:
http://www.tomtuckergolf.com/testimonials.html


Sponsors

Plum Creek Driving Range and Simulator Outdoor range and play indoor golf on any of our 40 Simulator Courses. Call 585-993-0930 or email Mark at plumcreek4@rochester.rr.com to reserve time for simulator play or practice!

Batavia Country Club (585) 343-7600 www.bataviacc.com
Great rates, the best greens in WNY. Golf Digest Four Star rating for public courses to play in New York State.
Pre-Pay For 2018 membership now, and the rest of 2017 is included!
Tee times online or by phone in season.

Tour Greens Western New York Practice with purpose in your own back yard on your own synthetic practice green. Our greens LOVE Western New York weather!

Chestnut Hill Country Club (585)-547-3613 www.chestnuthillgolf.com
THE WESTERN NEW YORK LEADER IN GOLF OUTINGS!
Only minutes from Buffalo, open to the public. Tee times online or by phone in season.

All the best,

Tom Tucker
Teaching Pro, Plum Creek Driving Range & Practice Facility
WGTF ' "Top 100 Golf Teacher"
USGTF Class "A" Teaching Professional
IGPA Certified Golf Psychology Coach
Cell: (716) 474-3005
Email: ttucker@rochester.rr.com
http://www.TomTuckerGolf.com

"There are no substitutes in the quest for perfection!"
~ Ben Hogan