Prepare to play your best golf by doing something now!



Tom's Featured Tip: Choosing The Right Ball For YOUR Game
Tour Greens: Tour Quality Synthetic Greens
Tom's Bonus Tip: Maintaining Tilt Through Impact
Lesson Comments: What Students Have To Say
Sponsors: Plum Creek Driving Range
Batavia Country Club
Pre-Pay For 2018 membership now, and the rest of 2017 is included!
Tour Greens Western New York
Chestnut Hill Country Club


Click here: INDOOR GOLF LESSONS for details on how to improve your game over the winter.

Plum Creek Driving Range, Batavia, NY, Open All Year
Simulator Course Play Specials: BataviaGolf.com Call 585-993-0930 or Email Mark to reserve simulator time!

Buy Gift Certificates for Lessons Sample Gift Certificate

Golf lessons - Outdoor and Indoor - are available at Plum Creek, please call me at 716 474 3005, email me at ttucker@rochester.rr.com, or visit my website at http://www.tomtuckergolf.com/lessonrates.html for details.

Subscribe - http://www.tomtuckergolf.com/signup.html If you like this newsletter, please do me a favor and forward it to your friends so that they may subscribe, thanks!

The Unsubscribe link is at the bottom of this newsletter.



---


Tom's Featured Tip: Choosing The Right Ball For YOUR Game

For simplicity, all advice on actual swings or drills is provided from a right handed perspective.

I recently had a discussion with my brother Jim about which ball he should be using for his game.

He has been playing a Callaway Super Soft, and I asked him to try out the new Titelist entry into the softer ball market, their DT TruSoft ball. He said he would, and I can't wait to hear back from him.

I had him try out the ball that I switched to - the Bridgestone Tour B330rxs - after playing Titelist Pro V1's for as long as they had been in existence. He said they felt a little hard to him. His swing speed is relatively slow, so a softer ball helps his ball flight characteristics immensely.

To put swing speed in perspective, if your stock seven iron carries 125 yards or less, you are a candidate for a softer ball. I play with players that carry their seven iron 150 yards or more that play a softer ball too, but if yours is carrying 125 yards or less, you definitely should play a softer ball.

My switch to a softer ball and regular flex graphite clubs this year has been a good one. A couple weeks back I shot my age on my birthday (71) so the proof is in the pudding for me. I do have to ratchet back my swing in my mind when I'm tempted to really go after a shot though. Swinging hard is not compatible with a softer shaft setup. To be honest, I probably should have made the shaft flex and ball choice change two years ago, but I think my ego got in the way.

Here's a great saying that I recently saw about ego: Egotism is the anesthesia that deadens the pain of stupidity.

Selecting the right ball can be a daunting task as there are upwards of 80 different models of golf balls to choose from today. It's no wonder that selecting the right ball for your game can be overwhelming.

My first bit of advice is to not let your ego get in the way of better scoring. Forget about what the pro's use unless you have pro level swing speed - over 105 mph (and that's on the low end).

Second, Itís not about the price. Just because a premium ball goes for as much as $5.00 apiece (or more), it doesnít mean they are best for your game. Donít be afraid to try some of the mid or even low priced golf balls that are advertised as "soft" balls, or balls designed for "touch" around the greens - as opposed to "getting more distance off the tee" as the main selling point. These lower compression balls will more likely than not perform better off the tee and last a little longer for you than a premium ball.

Third, donít be afraid to try something new. For my slower swing speed males, I used to recommend trying one of the golf balls designed for ladies. Now it seems to me that golf ball manufacturers have caught on to that train of thought and are designing balls with about the same degree of softness for men, maybe to avoid any possible stigma that some men felt about playing a ball advertised as "for ladies". The lower compression on these golf balls will help you gain distance on your drives and give you added feel around the greens if your swing speed is relatively slow.

If this tip got your attention, you are probably a candidate for a softer ball. The next time youíre in a golf shop or at a superstore thinking about picking up a new sleeve or two of balls, try a softer model ball.

I really think you'll like the results, I know it helped me.

Comments: ttucker@rochester.rr.com

Love your practice, own your swing, own your health,

Tom



---


Tour Greens: Tour Quality Synthetic Greens For Superb Short Game Practice

Our customers love their practice greens, here's what they have to say: Testimonials

Click on the image below for a video demonstration of how well golf shots hold on our Tour Greens synthetic putting greens.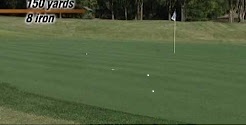 Wouldn't you love one of these in your own back yard?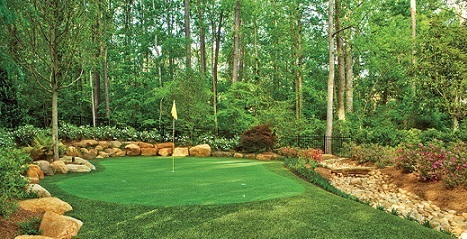 If you would like a free, no obligation quote for getting a beautiful practice area or putting green installed on your property - indoors or outdoors - give me (Tom Tucker) a call at (716) 474-3005, or email at at ttucker@rochester.rr.com

For more information please click here: TourGreensWNY.com

Comments: ttucker@rochester.rr.com

Love your practice, own your swing, own your health,

Tom



---


Tom's Bonus Tip: Maintaining Tilt Through Impact

For simplicity, all advice on actual swings or drills is provided from a right handed perspective.

Last week I conducted a lesson for a long time student that was having ball striking problems. In my follow up notes, I mentioned that he needed to maintain more side tilt through impact.

Here was his reply to my notes:

Good afternoon Tom.

Thank you for your information. I have in the past tried more lean. And I know lean and turn are things I suffer with improving. With regard to lean the more I lean the more I have a tendency to release my right hand in the backswing and consequently hit the ball fat Any suggestions or drills to give me more lean and not hit the fat shot?

Thanks so much. Regards Craig

Editors note: "lean" means side tilt.

His problems are a common ones, so here is what I followed up with.

Hi Doc, the best drill to practice the feel for "side tilt" is the "head against the wall drill". FYI I call it side tilt now because it's easier to communicate than what the technical term is - upper torso angle of inclination towards the ground.

We did it at one of your first lessons years ago, but in case you forgot it here's a YouTube video for that drill: https://youtu.be/FKfHZa-ex_U

I would only add to allow your head to swivel to see the ball right after impact, with your head still pressed against the wall.

Do the arms folded version, and make sure that you are straightening your left leg definitively through impact.

Here's what's important - in order- for ball first strikes (not hitting it fat, or ground first strikes)

1) Weight positioned on forward side at impact. For your swing method, part of that is not allowing ANY weight to shift laterally to the rear leg during your backswing. Execute either a weight forward backswing motion or a weight centered backswing motion. Concentrate on keeping your head laterally still like it does in the "head against the wall" drill.

2) Consistent rotation (pivot) through impact. This helps bring the bottom of the downswing forward like item number 1 above for a ball first strike.

3) Not flipping your wrists through impact. That toss the ball notion we practiced is the correct way to square the face up with your hands. It ends up with the right palm covering the ground. A flip ends up with the right palm facing the sky.

4) Definitively straightening your left leg at impact. This shallows your divot and adds centrifugal swing speed.

Please feel free to call me if you have any questions.

All the best,

Tom Tucker

Teaching Pro, Plum Creek Driving Range & Practice Facility
WGTF "Top 100 Golf Teacher"
USGTF Class "A" Teaching Professional
IGPA Certified Golf Psychology Coach
Cell: (716) 474-3005
Email: ttucker@rochester.rr.com
http://www.TomTuckerGolf.com

Practice Breeds Success

If you have ball striking problems, try the above - I'm sure it will help.

Comments: ttucker@rochester.rr.com

Love your practice, own your swing, own your health,

Tom



---



Golf Lessons

I conduct lessons at The Plum Creek Driving Range & Practice Facility
there's a link for Plum Creek info here: http://www.tomtuckergolf.com/

Lessons are available for all ages and skill levels, please contact
me - Tom Tucker - at (716) 474 3005 or email me at ttucker@rochester.rr.com
for more information.

Outdoor Lessons Details and Rates:
http://www.tomtuckergolf.com/lessonrates.html

Indoor Lessons Details and Rates:
http://www.tomtuckergolf.com/indoor.html

Driver Fitting Rates:
http://www.tomtuckergolf.com/indoor.html

Testimonials:
http://www.tomtuckergolf.com/testimonials.html


Sponsors

Plum Creek Driving Range and Simulator Outdoor range and play indoor golf on any of our 40 Simulator Courses. Call 585-993-0930 or email Mark at plumcreek4@rochester.rr.com to reserve time for simulator play or practice!

Batavia Country Club (585) 343-7600 www.bataviacc.com
Great rates, the best greens in WNY. Golf Digest Four Star rating for public courses to play in New York State.
Pre-Pay For 2018 membership now, and the rest of 2017 is included!
Tee times online or by phone in season.

Tour Greens Western New York Practice with purpose in your own back yard on your own synthetic practice green. Our greens LOVE Western New York weather!

Chestnut Hill Country Club (585)-547-3613 www.chestnuthillgolf.com
THE WESTERN NEW YORK LEADER IN GOLF OUTINGS!
Only minutes from Buffalo, open to the public. Tee times online or by phone in season.

All the best,

Tom Tucker
Teaching Pro, Plum Creek Driving Range & Practice Facility
WGTF ' "Top 100 Golf Teacher"
USGTF Class "A" Teaching Professional
IGPA Certified Golf Psychology Coach
Cell: (716) 474-3005
Email: ttucker@rochester.rr.com
http://www.TomTuckerGolf.com

"There are no substitutes in the quest for perfection!"
~ Ben Hogan