Prepare to play your best golf by doing something now!



Tom's Featured Tip: Cures For A Very Common Problem
Tour Greens: Tour Quality Synthetic Greens
Lesson Comments: What Students Have To Say
Sponsors: Plum Creek Driving Range
Batavia Country Club
Pre-Pay For 2018 membership now, and the rest of 2017 is included!
Tour Greens Western New York
Chestnut Hill Country Club


Click here: INDOOR GOLF LESSONS for details on how to improve your game over the winter.

Plum Creek Driving Range, Batavia, NY, Open All Year
Simulator Course Play Specials: BataviaGolf.com Call 585-993-0930 or Email Mark to reserve simulator time!

Buy Gift Certificates for Lessons Sample Gift Certificate

Golf lessons - Outdoor and Indoor - are available at Plum Creek, please call me at 716 474 3005, email me at ttucker@rochester.rr.com, or visit my website at http://www.tomtuckergolf.com/lessonrates.html for details.

Subscribe - http://www.tomtuckergolf.com/signup.html If you like this newsletter, please do me a favor and forward it to your friends so that they may subscribe, thanks!

The Unsubscribe link is at the bottom of this newsletter.



---


Tom's Featured Tip: Cures For A Very Common Problem

For simplicity, all advice on actual swings or drills is provided from a right handed perspective.

When I give a lesson that corrects one of the most common problems that I see with my experienced students, I like to pass the information along.

Such was the case with the last outdoor lesson that I gave a week or so ago.

I had an experienced student that contacted me for a lesson because his ball flight was all of a sudden weak and to the right, which is probably the most common problem that I see in golf. The last time I watched this student hit balls, his flight was either straight and explosive, or with a draw and explosive.

At the lesson I watched him hit about 15 balls after he warmed up, and we identified the problem as not squaring the clubface at impact, and that his downswing was getting too careful vs. free swinging.

Part of not squaring the clubface and not producing effortless swing speed was a swing that was a bit too steep on both the backswing and the downswing, and posture that was too erect.

We also determined that his clubface contact with the ball was tending to be too much towards the heel of the clubface.

Here's what we did to correct everything:
He set up with a consistent ball position - about 3 inches inside the left heel for everything but the driver.


He set up with more forward bend from the waist.


I had him make one handed half swings, making sure that the clubface was pointing up and slightly to the left at the mid follow through point for every swing, done on a very flat plane to really feel the release. Release means squaring the clubface up at impact, nothing else. When you think of it that way, it's an easy concept to digest.


He worked on developing more angular momentum through an inside takeaway.


We monitored that the left shoulder was going low on the takeaway, with hands going inside for more swing speed.


We placed the ball next to a pool noodle on practice swings to set up a channel for strikes on the center of the face of the club.


He practiced swinging freely - not aiming, steering, or trying to be too careful on his downswing.


Last but not least, he was instructed to SWING the club and to maintain some side tilt into his early follow through.
All of this brought him back to his old, strong ball flight.

Interestingly, we also observed that the shots that he pulled left were actually very powerfully flighted shots. So I told him to consider setting up very slightly closed and hitting that little pull as his stock swing - which would then be directed towards the target.

Not everyone is built for a square setup. That's my default setup for lessons, but we make adjustments as necessary. There are pro's that set up closed, others that set up open, and others that set up square.

With many of my students, I tweak some of the "variable" fundamentals to produce a swing that works best for how their particular body wants to swing the club. We wouldn't tweak anything that negates swing speed or good ball striking, but factors like stance, grip, and ball placement may be candidates for adjustment.

When you practice at the range, your job is to discover what works best for you and then to stick with it.

After you are consistently hitting the ball in the center of the face, test different stances and find out which stance produces the strike where the ball explodes off the clubface. If the square stance with center face contact does the trick, fine. If a closed (or open) stance works consistently better that's fine too.

Keep practicing!

Comments: ttucker@rochester.rr.com

Love your practice, own your swing, own your health,

Tom



---


Tour Greens: Tour Quality Synthetic Greens For Superb Short Game Practice

Our customers love their practice greens, here's what they have to say: Testimonials

Click on the image below for a video demonstration of how well golf shots hold on our Tour Greens synthetic putting greens.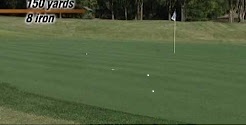 Wouldn't you love one of these in your own back yard?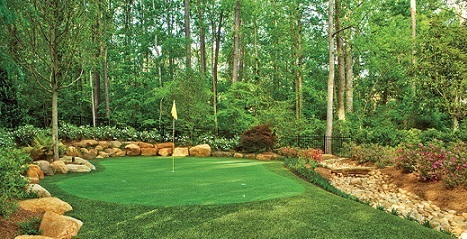 If you would like a free, no obligation quote for getting a beautiful practice area or putting green installed on your property - indoors or outdoors - give me (Tom Tucker) a call at (716) 474-3005, or email at at ttucker@rochester.rr.com

For more information please click here: TourGreensWNY.com

Comments: ttucker@rochester.rr.com

Love your practice, own your swing, own your health,

Tom



---


Golf Lessons

I conduct lessons at The Plum Creek Driving Range & Practice Facility
there's a link for Plum Creek info here: http://www.tomtuckergolf.com/

Lessons are available for all ages and skill levels, please contact
me - Tom Tucker - at (716) 474 3005 or email me at ttucker@rochester.rr.com
for more information.

Outdoor Lessons Details and Rates:
http://www.tomtuckergolf.com/lessonrates.html

Indoor Lessons Details and Rates:
http://www.tomtuckergolf.com/indoor.html

Driver Fitting Rates:
http://www.tomtuckergolf.com/indoor.html

Testimonials:
http://www.tomtuckergolf.com/testimonials.html


Sponsors

Plum Creek Driving Range and Simulator Outdoor range and play indoor golf on any of our 40 Simulator Courses. Call 585-993-0930 or email Mark at plumcreek4@rochester.rr.com to reserve time for simulator play or practice!

Batavia Country Club (585) 343-7600 www.bataviacc.com
Great rates, the best greens in WNY. Golf Digest Four Star rating for public courses to play in New York State.
Pre-Pay For 2018 membership now, and the rest of 2017 is included!
Tee times online or by phone in season.

Tour Greens Western New York Practice with purpose in your own back yard on your own synthetic practice green. Our greens LOVE Western New York weather!

Chestnut Hill Country Club (585)-547-3613 www.chestnuthillgolf.com
THE WESTERN NEW YORK LEADER IN GOLF OUTINGS!
Only minutes from Buffalo, open to the public. Tee times online or by phone in season.

All the best,

Tom Tucker
Teaching Pro, Plum Creek Driving Range & Practice Facility
WGTF ' "Top 100 Golf Teacher"
USGTF Class "A" Teaching Professional
IGPA Certified Golf Psychology Coach
Cell: (716) 474-3005
Email: ttucker@rochester.rr.com
http://www.TomTuckerGolf.com

"There are no substitutes in the quest for perfection!"
~ Ben Hogan