Prepare to play your best golf by doing something now!



Tom's Featured Tip: Driver Trajectory For Optimal Carry
Tour Greens: Tour Quality Synthetic Greens
Lesson Comments: What Students Have To Say
Sponsors: Plum Creek Driving Range
Batavia Country Club
Tour Greens Western New York
Chestnut Hill Country Club


Click here: INDOOR GOLF LESSONS for details on how to improve your game over the winter.

Plum Creek Driving Range, Batavia, NY, Open All Year
Simulator Course Play Specials: BataviaGolf.com Call 585-993-0930 or Email Mark to reserve simulator time!

Buy Gift Certificates for Lessons Sample Gift Certificate

Golf lessons - Outdoor and Indoor - are available at Plum Creek, please call me at 716 474 3005, email me at ttucker@rochester.rr.com, or visit my website at http://www.tomtuckergolf.com/lessonrates.html for details.

Subscribe - http://www.tomtuckergolf.com/signup.html If you like this newsletter, please do me a favor and forward it to your friends so that they may subscribe, thanks!

The Unsubscribe link is at the bottom of this newsletter.



---


Tom's Featured Tip: Driver Trajectory For Optimal Carry

For simplicity, all advice on actual swings or drills is provided from a right handed perspective.

First things first - Have a Happy Thanksgiving! I'm spending mine in Austin, Texas with my son Tommy and his family, and I'm sure we'll get in a little golf.

When I give a driver lesson, the first thing that I discuss is optimal driver carry trajectory. For most of my players I lay that out as a 12 to 14 degree launch angle with a spin rate of around 2,500 RPM.

So to really home in on the data, you may need to learn a good driver swing with a simulator that gives you that data - like the one that's available at Plum Creek. Or you'll need some sort of ball flight monitor that provides launch angle and spin rate, as well the number of degrees that you are either hitting up or down at the ball.

That's one very good reason to take an indoor driver swing lesson over the winter, or to at least have an indoor session or two on your own and learn how to interpret the data after each swing.

For the students I teach that possess exceptional swing speed (over 105 mph) , I drop the launch angle trajectory to 10 to 12 degrees with a spin rate that falls between 2,500 and 2,800 RPM. Their power needs less initial launch angle to produce the desired ball flight.

Since the average amateur swings at around 95 mph (seniors and ladies swing speeds are generally slower), and most of my readers - and students - fall into that category, I'm gearing this article towards the amateur level.

The way that you get a ball flight launch angle that gives you optimal carry with your driver is by hitting the ball at that part of your swing arc where you are catching it on the upswing. The best pro's in the world at this are on the LPGA. The ladies that hit it the longest are catching the ball consistently on a 4 degree upswing, which happens to be the optimal upswing angle for carry distance. In their training, they first learned to hit the ball at a point in their swing arc where they were hitting it at 4 degrees upward, then they adjusted their driver loft to produce a 12 to 14 degree launch angle.

Upward strike angle first, loft adjustment second.

Many PGA Tour Pro's sacrifice a little distance for more accuracy by catching the ball at about zero degrees, or even a half degree downward. This produces a slightly lower launch angle.

The long drive pro's, on the other hand, hit the ball at a 6 to 9 degree upward swing with 5 or 6 degree lofted drivers. That produces a launch angle that gives them optimal carry with a very low spinning ball. But keep in mind that they only need to hit the grid one time out of six swings :-) - and we'd like to hit the fairway more often than that.

If you do not have access to a launch monitor or a professional instructor, here are some things that you can try.
An optimal ball flight is parabolic. What this means is that the ball should come off the driver with about the same angle at the beginning and ending of the ball flight. It shouldn't "upshoot" or flat line.


If the ball comes out low or medium and "upshoots" to it's peak, that's most likely an indication of too much spin, which limits distance. It probably means that you are hitting down on the ball instead of hitting up at the ball. Play the ball more forward in your stance until you can feel that you are catching it on the upswing. You also may or may not need to close your stance slightly to hit your target after the ball has been moved forward in your stance.


Don't confuse "upshoot" with a high but flat trajectory. "Upshoot" climbs to a peak, then comes down at a steep angle. A ball that is hit very high with a flat trajectory that comes down more gradually is what we are striving for. The ball will get more roll out on the ground with a high, flat trajectory than with an "upshoot" trajectory.


If the ball comes out at a medium or low ball flight and appears to just drop out of the sky, it can be an indication of not enough spin. Try swinging a club with more loft, and perhaps a more flexible shaft. First try the more lofted option, then if that doesn't yield good results, try the more lofted option with a more flexible shaft.
Try all of this on the range until you are comfortable with your new swing. Don't try it out for the first time on the course!

And - through ball position - don't be afraid to have two different driver swings. You can tee it up a little lower and a little more to the rear to hit a low penetrating draw. You can also tee it a bit higher and play it more forward in your stance for a higher, flatter ball flight if the fairway is more generous. There's no reason that you can't own these two options if you put in the practice time and thoroughly understand why you are doing what you are doing.

Try it, you'll like it!

Comments: ttucker@rochester.rr.com

Love your practice, own your swing, own your health,

Tom



---


Tour Greens: Tour Quality Synthetic Greens For Superb Short Game Practice

Our customers love their practice greens, here's what they have to say: Testimonials

Click on the image below for a video demonstration of how well golf shots hold on our Tour Greens synthetic putting greens.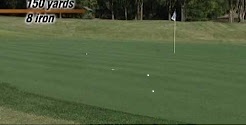 Wouldn't you love one of these in your own back yard?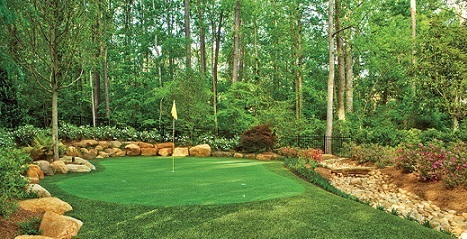 If you would like a free, no obligation quote for getting a beautiful practice area or putting green installed on your property - indoors or outdoors - give me (Tom Tucker) a call at (716) 474-3005, or email at at ttucker@rochester.rr.com

For more information please click here: TourGreensWNY.com

Comments: ttucker@rochester.rr.com

Love your practice, own your swing, own your health,

Tom



---


Golf Lessons

I conduct lessons at The Plum Creek Driving Range & Practice Facility
there's a link for Plum Creek info here: http://www.tomtuckergolf.com/

Lessons are available for all ages and skill levels, please contact
me - Tom Tucker - at (716) 474 3005 or email me at ttucker@rochester.rr.com
for more information.

Outdoor Lessons Details and Rates:
http://www.tomtuckergolf.com/lessonrates.html

Indoor Lessons Details and Rates:
http://www.tomtuckergolf.com/indoor.html

Driver Fitting Rates:
http://www.tomtuckergolf.com/indoor.html

Testimonials:
http://www.tomtuckergolf.com/testimonials.html


Sponsors

Plum Creek Driving Range and Simulator Outdoor range and play indoor golf on any of our 40 Simulator Courses. Call 585-993-0930 or email Mark at plumcreek4@rochester.rr.com to reserve time for simulator play or practice!

Batavia Country Club (585) 343-7600 www.bataviacc.com
Great rates, the best greens in WNY. Golf Digest Four Star rating for public courses to play in New York State.
Pre-Pay For 2018 membership now, and the rest of 2017 is included!
Tee times online or by phone in season.

Tour Greens Western New York Practice with purpose in your own back yard on your own synthetic practice green. Our greens LOVE Western New York weather!

Chestnut Hill Country Club (585)-547-3613 www.chestnuthillgolf.com
THE WESTERN NEW YORK LEADER IN GOLF OUTINGS!
Only minutes from Buffalo, open to the public. Tee times online or by phone in season.

All the best,

Tom Tucker
Teaching Pro, Plum Creek Driving Range & Practice Facility
WGTF ' "Top 100 Golf Teacher"
USGTF Class "A" Teaching Professional
IGPA Certified Golf Psychology Coach
Cell: (716) 474-3005
Email: ttucker@rochester.rr.com
http://www.TomTuckerGolf.com

"There are no substitutes in the quest for perfection!"
~ Ben Hogan