Prepare to play your best golf by doing something now!



Tom's Featured Tip: 2018 - Formula For Improvement
Tour Greens: Tour Quality Synthetic Greens
Lesson Comments: What Students Have To Say
Sponsors: Plum Creek Driving Range
Batavia Country Club
Tour Greens Western New York
Chestnut Hill Country Club


Click here: INDOOR GOLF LESSONS for details on how to improve your game over the winter.

Plum Creek Driving Range, Batavia, NY, Open All Year
Simulator Course Play Specials: BataviaGolf.com Call 585-993-0930 or Email Mark to reserve simulator time!

Buy Gift Certificates for Lessons Sample Gift Certificate

Golf lessons - Outdoor and Indoor - are available at Plum Creek, please call me at 716 474 3005, email me at ttucker@rochester.rr.com, or visit my website at http://www.tomtuckergolf.com/lessonrates.html for details.

Subscribe - http://www.tomtuckergolf.com/signup.html If you like this newsletter, please do me a favor and forward it to your friends so that they may subscribe, thanks!

The Unsubscribe link is at the bottom of this newsletter.



---


Tom's Featured Tip: 2018 - Formula For Improvement

For simplicity, all advice on actual swings or drills is provided from a right handed perspective.

The new year will be here soon, and many of you will make New Year resolutions. Add these to the list to help your game take a step forward.

2018 - Formula For Improvement
Track Your Stats

It's hard to hit a target if you don't have one, so define what you need to improve on by tracking your stats. Make notes on your scorecard, then keep a file for reference. When I was more competitive, I would keep mine on an Excel spreadsheet. Sure, it's work, but what in life that is worthwhile is accomplished without work?

Here's what you should track:

Fairways hit (F)
Greens hit in regulaton (GIR)
Three putts (3P)
Par 5 Birdies (P5B)
Up and Down saves (U&D)
Here are what your headings should be on your spreadsheet (numbers in parenthesis are goals):
Date Course Score Fair (80%) GIR 12 (65%) Putts (29) 3 Putts (1) U&D (60%) Par (12) Birdies (Par 5) Notes

After you've made 30 or 40 entries, you'll see trends that will give you all the information you need to know to figure out where you need to improve. It will be very enlightening.



Keep Notes

Ben Hogan kept a notebook, so should you. After I finish a lesson, I email notes and drills to my students. I expect the student to keep them on file in their computer or phone, and to use them as a template for improvement. Regardless of whether you take lessons or not, keep notes on your efforts to improve and use them as a guide for improvement. A small written notebook will suffice, so just do it.


Use Good Self Talk - Ask Yourself Good Questions

If you miss a putt and mumble to yourself "Why Do I stink at putting", you haven't helped yourself much. On the other hand, if you say "Why did I miss that putt to the left (right, short etc.)" you are putting your mind on track to solve the problem.

Stay positive. Make your self talk productive, not destructive.


Set up a Plan of Action For Improvement

Analyze all of your information and decide to improve your game AND knowledge through books, DVD's, online information, or formal instruction. Then make a practice schedule and stick to it. Don't make it overwhelming, keep it short and simple and there's a good chance that you'll actually stick to it.
Try it, I guarantee that you'll like it.

Comments: ttucker@rochester.rr.com

Love your practice, own your swing, own your health,

Tom



---


Tour Greens: Tour Quality Synthetic Greens For Superb Short Game Practice

Our customers love their practice greens, here's what they have to say: Testimonials

Click on the image below for a video demonstration of how well golf shots hold on our Tour Greens synthetic putting greens.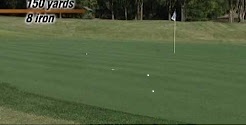 Wouldn't you love one of these in your own back yard?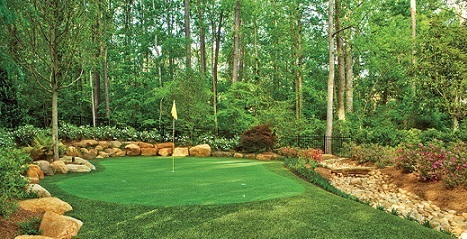 If you would like a free, no obligation quote for getting a beautiful practice area or putting green installed on your property - indoors or outdoors - give me (Tom Tucker) a call at (716) 474-3005, or email at at ttucker@rochester.rr.com

For more information please click here: TourGreensWNY.com

Comments: ttucker@rochester.rr.com

Love your practice, own your swing, own your health,

Tom



---


Golf Lessons

I conduct lessons at The Plum Creek Driving Range & Practice Facility
there's a link for Plum Creek info here: http://www.tomtuckergolf.com/

Lessons are available for all ages and skill levels, please contact
me - Tom Tucker - at (716) 474 3005 or email me at ttucker@rochester.rr.com
for more information.

Outdoor Lessons Details and Rates:
http://www.tomtuckergolf.com/lessonrates.html

Indoor Lessons Details and Rates:
http://www.tomtuckergolf.com/indoor.html

Driver Fitting Rates:
http://www.tomtuckergolf.com/indoor.html

Testimonials:
http://www.tomtuckergolf.com/testimonials.html


Sponsors

Plum Creek Driving Range and Simulator Outdoor range and play indoor golf on any of our 40 Simulator Courses. Call 585-993-0930 or email Mark at plumcreek4@rochester.rr.com to reserve time for simulator play or practice!

Batavia Country Club (585) 343-7600 www.bataviacc.com
Great rates, the best greens in WNY. Golf Digest Four Star rating for public courses to play in New York State.

Pre-Pay For Discounted 2018 memberships before December 31, 2017. After that date full rates apply, no exceptions.

Tee times online or by phone in season.

Tour Greens Western New York Practice with purpose in your own back yard on your own synthetic practice green. Our greens LOVE Western New York weather!

Chestnut Hill Country Club (585)-547-3613 www.chestnuthillgolf.com
THE WESTERN NEW YORK LEADER IN GOLF OUTINGS!
Only minutes from Buffalo, open to the public. Tee times online or by phone in season.

All the best,

Tom Tucker
Teaching Pro, Plum Creek Driving Range & Practice Facility
WGTF ' "Top 100 Golf Teacher"
USGTF Class "A" Teaching Professional
IGPA Certified Golf Psychology Coach
Cell: (716) 474-3005
Email: ttucker@rochester.rr.com
http://www.TomTuckerGolf.com

"There are no substitutes in the quest for perfection!"
~ Ben Hogan