Prepare to play your best golf by doing something now!



Tom's Featured Tip: Play The Course From Your Correct Yardage
Tour Greens: Tour Quality Synthetic Greens
Lesson Comments: What Students Have To Say
Sponsors: Plum Creek Driving Range
Batavia Country Club
Tour Greens Western New York
Chestnut Hill Country Club


Click here: INDOOR GOLF LESSONS for details on how to improve your game over the winter.

Plum Creek Driving Range, Batavia, NY, Open All Year
Simulator Course Play Specials: BataviaGolf.com Call 585-993-0930 or Email Mark to reserve simulator time!

Buy Gift Certificates for Lessons Sample Gift Certificate

Golf lessons - Outdoor and Indoor - are available at Plum Creek, please call me at 716 474 3005, email me at ttucker@rochester.rr.com, or visit my website at http://www.tomtuckergolf.com/lessonrates.html for details.

Subscribe - http://www.tomtuckergolf.com/signup.html If you like this newsletter, please do me a favor and forward it to your friends so that they may subscribe, thanks!

The Unsubscribe link is at the bottom of this newsletter.



---


Tom's Featured Tip: Play The Course From Your Correct Yardage

For simplicity, all advice on actual swings or drills is provided from a right handed perspective.

I hope everyone will have a great year in 2018.

I'm going to do my part by giving everyone the gift of a very enjoyable New Years resolution - that of hitting from the tees that are correct for you to help you enjoy the game much more. I find that most golfers (most men anyway) stick to the course yardage that's too long for them for too long of a period of time, and I guarantee that the game will be more fun playing from the correct yardage.

Here's a fact: MOST players don't take enough club with their approach shots.

They remember the day they "use to" hit a club a certain distance but have not come to grips with the fact they no longer can carry their 7 iron 150 yards (or more).

Now, that same 7 iron carries 130-135. But, they keep hitting it from 150 yards and coming up short.

The truth is that most of us are not as flexible or strong as we use to be. We can't generate the swing speed we once could, yet we keep hitting the same club for the distance that it used to fly.

The first thing that needs to be done is to nail down your iron swing distances.

Go to a range or a simulator and nail down the carry distance that your stock swing produces for your PW, 9 iron, 8 iron, 7 iron, 6 iron, and 5 iron.

After you get those numbers, here's how to calculate the correct course yardage (approximate) for you to play from .

Take the carry distance (the distance that it flies in the air) that your stock 5 iron swing produces, and multiply it by 37. That will give you the approximate course yardage that you should play from.

When I was much younger, I used to hit my stock 5 iron 185 yards. Now, at age 71, I hit my stock 5 iron 172 yards. For what it's worth, I switched my iron shafts from steel to graphite to help me generate more swing speed a few years ago.

Here are the results for each equation for comparison's sake: younger swing and current swing.

Younger swing: 185 yards X 37 = 6845 yards.

Current swing: 172 X 37 = 6364 yards

The course that I play most frequently is the Batavia Country Club.
Blue tee yardage is 7194
White tee yardage is 6570
Gold tee yardage is 5984
Red tee yardage is 5311

Since my approximate yardage (6364) falls between 6570 (White tees) and 5984 (Gold tees), I have a choice to make on which tees I should play. I can still score well and hit most of the par 4 greens with a middle iron approach shot from 6570 (White tees), so that's what I play there. At another course, I may play the whites or the blues, depending on the yardage and the distances on the par 4's .

If or when the day comes that I have to hit long irons or hybrids into the greens on par 4's, I'll definitely move to the shorter tees. After all is said and done, the game has to be fun, and hitting woods or hybrids into par 4's all day is not my idea of fun.

It's difficult to bury your ego and to move to shorter tees, but I pretty much guarantee that it will bring newfound enjoyment to your game - especially if you have been playing the longer tees for too long.

So the next time that you play a new course, choose where you play from according to your approximate playing yardage, not the color of the tee markers.

Try it, I guarantee that you'll like it.

Comments: ttucker@rochester.rr.com

Love your practice, own your swing, own your health,

Tom



---


Tour Greens: Tour Quality Synthetic Greens For Superb Short Game Practice

Our customers love their practice greens, here's what they have to say: Testimonials

Click on the image below for a video demonstration of how well golf shots hold on our Tour Greens synthetic putting greens.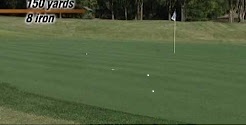 Wouldn't you love one of these in your own back yard?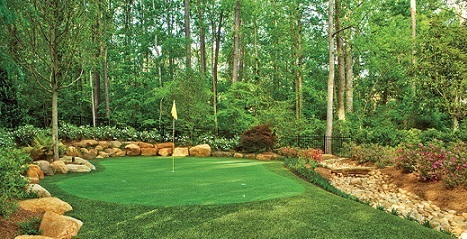 If you would like a free, no obligation quote for getting a beautiful practice area or putting green installed on your property - indoors or outdoors - give me (Tom Tucker) a call at (716) 474-3005, or email at at ttucker@rochester.rr.com

For more information please click here: TourGreensWNY.com

Comments: ttucker@rochester.rr.com

Love your practice, own your swing, own your health,

Tom



---


Golf Lessons

I conduct lessons at The Plum Creek Driving Range & Practice Facility
there's a link for Plum Creek info here: http://www.tomtuckergolf.com/

Lessons are available for all ages and skill levels, please contact
me - Tom Tucker - at (716) 474 3005 or email me at ttucker@rochester.rr.com
for more information.

Outdoor Lessons Details and Rates:
http://www.tomtuckergolf.com/lessonrates.html

Indoor Lessons Details and Rates:
http://www.tomtuckergolf.com/indoor.html

Driver Fitting Rates:
http://www.tomtuckergolf.com/indoor.html

Testimonials:
http://www.tomtuckergolf.com/testimonials.html


Sponsors

Plum Creek Driving Range and Simulator Outdoor range and play indoor golf on any of our 40 Simulator Courses. Call 585-993-0930 or email Mark at plumcreek4@rochester.rr.com to reserve time for simulator play or practice!

Batavia Country Club (585) 343-7600 www.bataviacc.com
Great rates, the best greens in WNY. Golf Digest Four Star rating for public courses to play in New York State.

Pre-Pay For Discounted 2018 memberships before December 31, 2017. After that date full rates apply, no exceptions.

Tee times online or by phone in season.

Tour Greens Western New York Practice with purpose in your own back yard on your own synthetic practice green. Our greens LOVE Western New York weather!

Chestnut Hill Country Club (585)-547-3613 www.chestnuthillgolf.com
THE WESTERN NEW YORK LEADER IN GOLF OUTINGS!
Only minutes from Buffalo, open to the public. Tee times online or by phone in season.

All the best,

Tom Tucker
Teaching Pro, Plum Creek Driving Range & Practice Facility
WGTF ' "Top 100 Golf Teacher"
USGTF Class "A" Teaching Professional
IGPA Certified Golf Psychology Coach
Cell: (716) 474-3005
Email: ttucker@rochester.rr.com
http://www.TomTuckerGolf.com

"There are no substitutes in the quest for perfection!"
~ Ben Hogan