Prepare to play your best golf by doing something now!



Tom's Featured Tip: How To Get Better In 2018 - Goals
Tour Greens: Tour Quality Synthetic Greens
Lesson Comments: What Students Have To Say
Sponsors: Plum Creek Driving Range
Batavia Country Club
Tour Greens Western New York
Chestnut Hill Country Club


Click here: INDOOR GOLF LESSONS for details on how to improve your game over the winter.

Plum Creek Driving Range, Batavia, NY, Open All Year
Simulator Course Play Specials: BataviaGolf.com Call 585-993-0930 or Email Mark to reserve simulator time!

Buy Gift Certificates for Lessons Sample Gift Certificate

Golf lessons - Outdoor and Indoor - are available at Plum Creek, please call me at 716 474 3005, email me at ttucker@rochester.rr.com, or visit my website at http://www.tomtuckergolf.com/lessonrates.html for details.

Subscribe - http://www.tomtuckergolf.com/signup.html If you like this newsletter, please do me a favor and forward it to your friends so that they may subscribe, thanks!

The Unsubscribe link is at the bottom of this newsletter.



---


Tom's Featured Tip: How To Get Better In 2018 - Goals

For simplicity, all advice on actual swings or drills is provided from a right handed perspective.

I have recently had planning sessions with a couple of my more serious students regarding how they can get better. I thought that an overview of what we did would be beneficial to all of my readers, so here it is.

This is a bit general in nature. If anyone has any questions, please email them to me and I'll be glad to answer them. Send questions to ttucker@rochester.rr.com.

The first part of any discussion on mapping a plan for improvement is setting attainable goals. You can't hit a target you can't see, and you can't see a target you don't have.

The plan for action.
We defined specific attainable goals based on their current skill level and areas that need improvement.


We defined why they wanted to attain the goals. One player wants to see if he has what it takes to become a pro golfer, one wants to attain a single digit handicap. The why is always a critical motivational factor.


They each wrote down a one sentence interim goal with a deadline on an index card. Then I told them to trim it, get it laminated, and to carry it in their pocket until they achieved that goal. I can't overstate the importance of this step. There's something to be said for seeing your goal clearly written down several times per day. It works like magic for golf goals or any other goal that you are working on.


We created a specific plan of action based on three week segments of practice to reach their interim goals, including swing drills.


It's noteworthy that each drill was designed to provide feedback in one form or another. For example:

One student is concentrating on ball striking, so he has drills that let him know if he is making "ball first" strikes when he performs the drills.
The other student is working on developing a more inside attack angle on his swing path, so he has drills that will let him know if his path is getting off line.



After each three week period of practice, the student will evaluate his progress, then set new goals as appropriate.
If you want to work on your game and don't know where to start, here's what you should concentrate on - what I call the absolute fundamentals of the game:
Striking the ground in the right place - lowpoint awareness and control.
Striking the middle of the ball with the sweet spot of the clubface.
Controlling your clubface in relation to the orientation of your swing path.
If you work on these fundamentals by setting goals like I did with the two students referenced above, you'll get better - and I guarantee that.

Try it, you'll like it.

Comments: ttucker@rochester.rr.com

Love your practice, own your swing, own your health,

Tom



---


Tour Greens: Tour Quality Synthetic Greens For Superb Short Game Practice

Our customers love their practice greens, here's what they have to say: Testimonials

Click on the image below for a video demonstration of how well golf shots hold on our Tour Greens synthetic putting greens.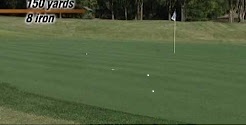 Wouldn't you love one of these in your own back yard?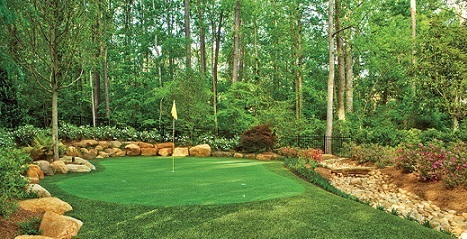 If you would like a free, no obligation quote for getting a beautiful practice area or putting green installed on your property - indoors or outdoors - give me (Tom Tucker) a call at (716) 474-3005, or email at at ttucker@rochester.rr.com

For more information please click here: TourGreensWNY.com

Comments: ttucker@rochester.rr.com

Love your practice, own your swing, own your health,

Tom



---


Golf Lessons

I conduct lessons at The Plum Creek Driving Range & Practice Facility
there's a link for Plum Creek info here: http://www.tomtuckergolf.com/

Lessons are available for all ages and skill levels, please contact
me - Tom Tucker - at (716) 474 3005 or email me at ttucker@rochester.rr.com
for more information.

Outdoor Lessons Details and Rates:
http://www.tomtuckergolf.com/lessonrates.html

Indoor Lessons Details and Rates:
http://www.tomtuckergolf.com/indoor.html

Driver Fitting Rates:
http://www.tomtuckergolf.com/indoor.html

Testimonials:
http://www.tomtuckergolf.com/testimonials.html


Sponsors

Plum Creek Driving Range and Simulator Outdoor range and play indoor golf on any of our 40 Simulator Courses. Call 585-993-0930 or email Mark at plumcreek4@rochester.rr.com to reserve time for simulator play or practice!

Batavia Country Club (585) 343-7600 www.bataviacc.com
Great rates, the best greens in WNY. Golf Digest Four Star rating for public courses to play in New York State.

Pre-Pay For Discounted 2018 memberships before December 31, 2017. After that date full rates apply, no exceptions.

Tee times online or by phone in season.

Tour Greens Western New York Practice with purpose in your own back yard on your own synthetic practice green. Our greens LOVE Western New York weather!

Chestnut Hill Country Club (585)-547-3613 www.chestnuthillgolf.com
THE WESTERN NEW YORK LEADER IN GOLF OUTINGS!
Only minutes from Buffalo, open to the public. Tee times online or by phone in season.

All the best,

Tom Tucker
Teaching Pro, Plum Creek Driving Range & Practice Facility
WGTF ' "Top 100 Golf Teacher"
USGTF Class "A" Teaching Professional
IGPA Certified Golf Psychology Coach
Cell: (716) 474-3005
Email: ttucker@rochester.rr.com
http://www.TomTuckerGolf.com

"There are no substitutes in the quest for perfection!"
~ Ben Hogan