Prepare to play your best golf by doing something now!



Tom's Featured Tip: To Thine Own Swing Be True
Tour Greens: Tour Quality Synthetic Greens
Lesson Comments: What Students Have To Say
Sponsors: Plum Creek Driving Range
Batavia Country Club
Tour Greens Western New York
Chestnut Hill Country Club


Click here: INDOOR GOLF LESSONS for details on how to improve your game over the winter.

Plum Creek Driving Range, Batavia, NY, Open All Year
Simulator Course Play Specials: BataviaGolf.com Call 585-993-0930 or Email Mark to reserve simulator time!

Buy Gift Certificates for Lessons Sample Gift Certificate

Golf lessons - Outdoor and Indoor - are available at Plum Creek, please call me at 716 474 3005, email me at ttucker@rochester.rr.com, or visit my website at http://www.tomtuckergolf.com/lessonrates.html for details.

Subscribe - http://www.tomtuckergolf.com/signup.html If you like this newsletter, please do me a favor and forward it to your friends so that they may subscribe, thanks!

The Unsubscribe link is at the bottom of this newsletter.



---


Tom's Featured Tip: To Thine Own Swing Be True

For simplicity, all advice on actual swings or drills is provided from a right handed perspective.

A newsletter subscriber recently sent me an email asking my opinion about a "new swing" that he saw advertised in a golf magazine. This article addresses the question.

"To Thine Own Self Be True" is an excerpt from a longer line by Polonius in William Shakespeare's play Hamlet. (If you are interested, the whole line was "This above all: to thine own self be true, And it must follow, as the night the day, Thou canst not then be false to any man.")

"To Thine Own Swing Be True" is a TCT original - my phrase for owning your own swing, then trusting it enough to be true to it.

My inspiration for this article came from a low handicap golfing buddy who is training at a high tech golf facility that has specialized equipment that he wanted to use to analyze and improve his swing.

I'm not naming the business because a golf pro I coached was considering working there, but after meeting with the owners he felt that it was a lesson mill - a place that schedules more lessons than necessary for non-discriminating prospects. His opinion was one that I had already formed about the business. Enough said on that point.

My golfing buddy wouldn't fall into that trap because he knows specifically what he wants to get from the technology, so he's an exception to the rule. He'll know when he's received his moneys' worth.

He sent me a video clip of his current swing which we discussed in length. It's a combination of a Stack & Tilt Swing Model and a Rotary Swing Model, each of which I know like the back of my hand.

This brings up the whole issue of should a player looking to improve adopt a specific swing model and stick to it religiously, or is a hybrid swing better. "Hybrid" being components of various swing models.

I've heard a professional player promoting a particular swing model state " If you don't stand for something, you'll fall for anything". He meant that you need to get their swing model information and use every bit of it exclusively.

I beg to differ, as you'll see below.

Here's my take on this important subject from a teaching perspective as well as from a personal perspective.

From A Teaching Perspective

Every now and then I get a student who comes to me and says that they want to change their swing completely, and that they want to learn a specific swing model. In cases like that, if the student has the ability to accomplish the swing model that they have chosen, we start out working on the fundamentals for that swing model.

Sometimes the student adapts well to every aspect, but more often than not we have to make a tweak or two either to adapt the swing to take advantage of their natural tendencies, or because they simply can't do the fundamental as prescribed. There's nothing wrong with adding options to create or improve function. In fact, it's desirable.

Notice that I said adapt the swing to fit their body, not adapt their body to fit the swing. It's analogous to a lie angle putter fitting. If your stance and grip are what you want them to be, you wouldn't alter either of those to accommodate the lie angle of the putter. You'd bend the shaft to make it fit your existing stance and grip.

Most of the time students place their improvement in my hands, and I then build fundamentals from there by taking components from different swing models and fitting them together to best suit each students abilities.

Often I get students that had good fundamentals for a younger body, but aging or other body changes (ie: injuries) necessitated tweaking some aspects of those fundamentals.

From My Personal Perspective

I favor a swing model called the Stack & Tilt. After learning it inside out, I switched from a swing style called the Rotary Swing to the S&T. I started using it about ten years ago, and at first I did everything strictly according to the swing model recommendations.

Over the years, I discovered (golf is a game of discovery) that I needed to shorten the lateral hip movement that initiates the downswing transition and add more hip rotation. The result was a swing that's a hybrid between a Stack & Tilt and a Rotary swing, which happen to be pretty similar to begin with.

So here's the important message: find a swing model that you like and that you think fits your body and learn it inside out. If you are working diligently on fundamentals for that swing model without great results, make gradual tweaks until you see improvement.

You could do this on your own with all the great information access we have in this world we now live in. However, if you get stuck get the help of a professional instructor to guide you over the rough patches.

With enough practice you'll own your swing.

Then after you own it,

"To Thine Own Swing Be True"

Try it, you'll like it.

Comments: ttucker@rochester.rr.com

Love your practice, own your swing, own your health,

Tom



---


Tour Greens: Tour Quality Synthetic Greens For Superb Short Game Practice

Our customers love their practice greens, here's what they have to say: Testimonials

Click on the image below for a video demonstration of how well golf shots hold on our Tour Greens synthetic putting greens.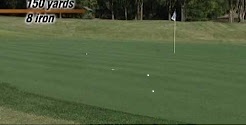 Wouldn't you love one of these in your own back yard?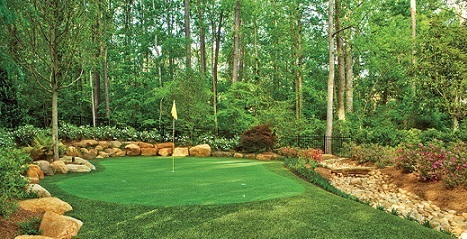 If you would like a free, no obligation quote for getting a beautiful practice area or putting green installed on your property - indoors or outdoors - give me (Tom Tucker) a call at (716) 474-3005, or email at at ttucker@rochester.rr.com

For more information please click here: TourGreensWNY.com

Comments: ttucker@rochester.rr.com

Love your practice, own your swing, own your health,

Tom



---


Golf Lessons

I conduct lessons at The Plum Creek Driving Range & Practice Facility
there's a link for Plum Creek info here: http://www.tomtuckergolf.com/

Lessons are available for all ages and skill levels, please contact
me - Tom Tucker - at (716) 474 3005 or email me at ttucker@rochester.rr.com
for more information.

Outdoor Lessons Details and Rates:
http://www.tomtuckergolf.com/lessonrates.html

Indoor Lessons Details and Rates:
http://www.tomtuckergolf.com/indoor.html

Driver Fitting Rates:
http://www.tomtuckergolf.com/indoor.html

Testimonials:
http://www.tomtuckergolf.com/testimonials.html


Sponsors

Plum Creek Driving Range and Simulator Outdoor range and play indoor golf on any of our 40 Simulator Courses. Call 585-993-0930 or email Mark at plumcreek4@rochester.rr.com to reserve time for simulator play or practice!

Batavia Country Club (585) 343-7600 www.bataviacc.com
Great rates, the best greens in WNY. Golf Digest Four Star rating for public courses to play in New York State.

Pre-Pay For Discounted 2018 memberships before December 31, 2017. After that date full rates apply, no exceptions.

Tee times online or by phone in season.

Tour Greens Western New York Practice with purpose in your own back yard on your own synthetic practice green. Our greens LOVE Western New York weather!

Chestnut Hill Country Club (585)-547-3613 www.chestnuthillgolf.com
THE WESTERN NEW YORK LEADER IN GOLF OUTINGS!
Only minutes from Buffalo, open to the public. Tee times online or by phone in season.

All the best,

Tom Tucker
Teaching Pro, Plum Creek Driving Range & Practice Facility
WGTF ' "Top 100 Golf Teacher"
USGTF Class "A" Teaching Professional
IGPA Certified Golf Psychology Coach
Cell: (716) 474-3005
Email: ttucker@rochester.rr.com
http://www.TomTuckerGolf.com

"There are no substitutes in the quest for perfection!"
~ Ben Hogan