Prepare to play your best golf by doing something now!



Tom's Featured Tip: Q&A: Ball Flight Problem
Tour Greens: Tour Quality Synthetic Greens
Lesson Comments: What Students Have To Say
Sponsors: Plum Creek Driving Range
Batavia Country Club
Tour Greens Western New York
Chestnut Hill Country Club


Click here: INDOOR GOLF LESSONS for details on how to improve your game over the winter.

Plum Creek Driving Range, Batavia, NY, Open All Year
Simulator Course Play Specials: BataviaGolf.com Call 585-993-0930 or Email Mark to reserve simulator time!

Buy Gift Certificates for Lessons Sample Gift Certificate

Golf lessons - Outdoor and Indoor - are available at Plum Creek, please call me at 716 474 3005, email me at ttucker@rochester.rr.com, or visit my website at http://www.tomtuckergolf.com/lessonrates.html for details.

Subscribe - http://www.tomtuckergolf.com/signup.html If you like this newsletter, please do me a favor and forward it to your friends so that they may subscribe, thanks!

The Unsubscribe link is at the bottom of this newsletter.



---


Tom's Featured Tip: Q&A: Ball Flight Problem

For simplicity, all advice on actual swings or drills is provided from a right handed perspective.

Q: Hey Tom, I'm having issues hitting my 4 iron. I keep hitting it hard off of the toe and I'm getting a straight to hook ball flight. I have tried almost everything except actual modification of the club (lie angle). I did recently swap out my 4 iron for a TaylorMade p790 to see if I wanted to get the set.

Can you think of anything?

Thanks, Joe.

A: Thanks for the question Joe.

I do have a few thoughts on this, but to be honest my first one is why do you have a four iron on your bag anyway (no offense intended)? These days most amateurs carry a hybrid in lieu of four iron because they are MUCH easier to hit. Give that some thought.

Also, that P790 iron is a beautiful club, but it's more for low handicap players. If you are having trouble hitting the ball squarely on the face of the club, you could use something with a bit more perimeter weighting. They will be much more forgiving on off center strikes. Those P970's are seductively beautiful - as all forged muscleback type "player" irons are - but in my opinion they're not for you at this stage of your game. Playing with equipment that doesn't fit your swing or your game will be very frustrating.

I'll deal with your thoughts about adjusting the lie angle first.

Joe's profile is that he's a beginner, 5"11" tall, and he's a strong player with a lot of swing speed. He buys stock equipment. Irons are manufactured with a lie angle that will fit the general population height range of an adult male, and he fits in that mold. He likely does not need to adjust the lie angle of the club, unless it's not a stock lie angle.

So Joe, adjusting the lie angle is out, and let's look at other solutions.

A ball that draws or hooks means that the clubface is closed to the swing path at impact. The friction caused by this condition tilts the spin axis of the ball to cause that ball flight.

Catching the ball on the toe of the club could be the sole cause of your problem because of your swing profile. At our last lesson you were playing shafts that were too soft for you. You qualify for at least a stiff shaft if not an extra stiff shaft (depending on the manufacturer).

I strongly suggest stiff shafts for all of your clubs if you don't already have them.

Catching the ball on the toe of the club with a shaft that's too flexible will cause the face to be closing very rapidly, adding to the friction component that causes a draw or a hook.

Regardless of flex, hitting the ball more towards the center of the face adds a desirable compression component, and reduces unwanted friction.

The simplest drill that I know to hit the ball in the middle of the face is to stick two tees in the ground to form a gate to develop a center face strike: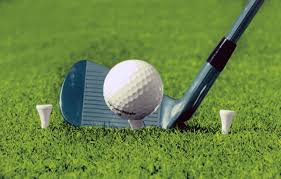 Move the tees closer together and hit the ball off the ground as you become more proficient with the drill.

If your ball is starting straight then drawing or hooking, it's also probable that your swing path is too much down the line with a slightly closed face at impact.

I would look at your ball position being too far forward.

Try moving the ball back in your stance gradually until the ball is starting slightly outside and drawing back to your target line.

Last but not least, reviewing your lesson notes I noted that you had a bit of a flip in your release. Concentrate on two things here:

1) Transport the impact angles in your hands and wrists through the strike, keeping the wrist on your forward hand flat, and

2) Feel that you are holding off on allowing your hands to release through impact. "Feel" holding the face square through the strike.

Joe, I think the solution is in one of these suggestions. If none work, give me a call for a lesson so that I can actually see what's going on.

Comments: ttucker@rochester.rr.com

Love your practice, own your swing, own your health,

Tom



---


Tour Greens: Tour Quality Synthetic Greens For Superb Short Game Practice

Our customers love their practice greens, here's what they have to say: Testimonials

Click on the image below for a video demonstration of how well golf shots hold on our Tour Greens synthetic putting greens.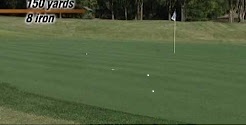 Wouldn't you love one of these in your own back yard?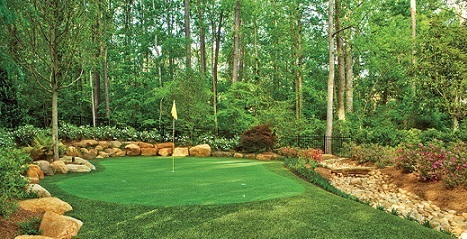 If you would like a free, no obligation quote for getting a beautiful practice area or putting green installed on your property - indoors or outdoors - give me (Tom Tucker) a call at (716) 474-3005, or email at at ttucker@rochester.rr.com

For more information please click here: TourGreensWNY.com

Comments: ttucker@rochester.rr.com

Love your practice, own your swing, own your health,

Tom



---


Golf Lessons

I conduct lessons at The Plum Creek Driving Range & Practice Facility
there's a link for Plum Creek info here: http://www.tomtuckergolf.com/

Lessons are available for all ages and skill levels, please contact
me - Tom Tucker - at (716) 474 3005 or email me at ttucker@rochester.rr.com
for more information.

Outdoor Lessons Details and Rates:
http://www.tomtuckergolf.com/lessonrates.html

Indoor Lessons Details and Rates:
http://www.tomtuckergolf.com/indoor.html

Driver Fitting Rates:
http://www.tomtuckergolf.com/indoor.html

Testimonials:
http://www.tomtuckergolf.com/testimonials.html


Sponsors

Plum Creek Driving Range and Simulator Outdoor range and play indoor golf on any of our 40 Simulator Courses. Call 585-993-0930 or email Mark at plumcreek4@rochester.rr.com to reserve time for simulator play or practice!

Batavia Country Club (585) 343-7600 www.bataviacc.com
Great rates, the best greens in WNY. Golf Digest Four Star rating for public courses to play in New York State.

Tee times online or by phone in season.

League openings for Monday Women's League, Monday, Tuesday, and Thursday Men's Leagues, and Friday Couples Leagues. Click here for more information: Leagues Leagues are always looking for substitutes. If you like the thought of playing in a league ocassionally but not every week, please call and sign up as a substitute.

Tour Greens Western New York Practice with purpose in your own back yard on your own synthetic practice green. Our greens LOVE Western New York weather!

Chestnut Hill Country Club (585)-547-3613 www.chestnuthillgolf.com
THE WESTERN NEW YORK LEADER IN GOLF OUTINGS!
Only minutes from Buffalo, open to the public. Tee times online or by phone in season.

Chestnut Hill CC has appointed fellow USGTF Golf Professional and personal friend Jim LaBuda to their staff. Here's his info: Jim LaBuda

Whether you are searching for a home for your existing golf league, or want to join as an individual(s), Chestnut Hill has a league option for you. Click here for more information: Leagues

All the best,

Tom Tucker
Teaching Pro, Plum Creek Driving Range & Practice Facility
WGTF ' "Top 100 Golf Teacher"
USGTF Class "A" Teaching Professional
IGPA Certified Golf Psychology Coach
Cell: (716) 474-3005
Email: ttucker@rochester.rr.com
http://www.TomTuckerGolf.com

"There are no substitutes in the quest for perfection!"
~ Ben Hogan