Prepare to play your best golf by doing something now!



Tom's Featured Tip: Yoga, and an Alternate Chipping Grip
Tour Greens: Tour Quality Synthetic Greens
Lesson Comments: What Students Have To Say
Sponsors: Plum Creek Driving Range
Batavia Country Club
Tour Greens Western New York
Chestnut Hill Country Club


Click here: INDOOR GOLF LESSONS for details on how to improve your game over the winter.

Plum Creek Driving Range, Batavia, NY, Open All Year
Simulator Course Play Specials: BataviaGolf.com Call 585-993-0930 or Email Mark to reserve simulator time!

Buy Gift Certificates for Lessons Sample Gift Certificate

Golf lessons - Outdoor and Indoor - are available at Plum Creek, please call me at 716 474 3005, email me at ttucker@rochester.rr.com, or visit my website at http://www.tomtuckergolf.com/lessonrates.html for details.

Subscribe - http://www.tomtuckergolf.com/signup.html If you like this newsletter, please do me a favor and forward it to your friends so that they may subscribe, thanks!

The Unsubscribe link is at the bottom of this newsletter.



---


Tom's Featured Tip: Yoga, and an Alternate Chipping Grip

For simplicity, all advice on actual swings or drills is provided from a right handed perspective.

YOGA

A couple of issues back (Issue 495 02/28/18) I mentioned that I was collaborating with a highly credentialed Yoga instructor, Rebecca (Becca) Martino Cohen Rebecca Cohen Yoga to develop a Yoga For Golfers program.

Right after I met with Becca, I developed plantar fasciitis along with a pretty big bone spur on my left heel.

That's calmed down enough for me to commit to a 30 day (actually four days per week for four weeks) trial of the Yoga For Golfers routine that Becca developed to see how it affects my flexibility and mobility.
I'll report back on my results in about a month.

Alternate Chipping Grip

After the last newsletter on chipping, I had a question from a golfer that stated he sets up as I recommended, but he still tends to "scoop" the ball. He wanted to know if he should move the ball further back in his stance. That might actually work for awhile, but it's likely that he needs a more permanent adjustment.

Players that tend to "scoop" the ball are usually flipping the clubhead at or before impact in a subconscious effort to lift the ball into the air. When that happens, the left wrist (or sometimes both wrists) break down causing the flip.

This problem usually manifests itself with every swing, but the bad results are most notable with chipping and putting. I would go so far as to say if you are flipping your chips, that you are most likely flipping your putts also.

When I am teaching a student and notice this problem, most of the time making the student aware of the problem then building the correct hand and wrist positions through impact with specific drills resolves the issue.

When a student still can't maintain the proper hand and wrist angles after awareness and corrective drills (a small percentage), we work on a "left hand low" grip. This grip is seen very often in putting, and it also works like magic for short to medium length chips.

Here's what a "left hand low" grip looks like with a stock chipping stroke: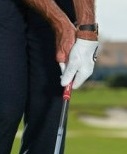 This photo was taken right after impact. Notice that forward shaft lean has been maintained past the strike, and that the left wrist has stayed perfectly flat. This is exactly how the grip and shaft lean looked at setup. It's a textbook impact position for transporting the angles through the ball for a stock low to medium trajectory chip shot.

If you have trouble making consistent ball contact with your chipping, try this grip and I think you'll love the results.

Comments: ttucker@rochester.rr.com

Love your practice, own your swing, own your health,

Tom



---


Tour Greens: Tour Quality Synthetic Greens For Superb Short Game Practice

Our customers love their practice greens, here's what they have to say: Testimonials

Click on the image below for a video demonstration of how well golf shots hold on our Tour Greens synthetic putting greens.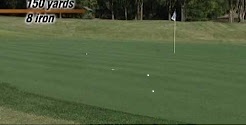 Wouldn't you love one of these in your own back yard?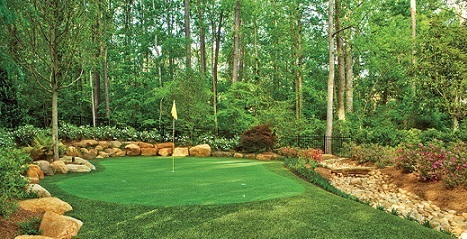 If you would like a free, no obligation quote for getting a beautiful practice area or putting green installed on your property - indoors or outdoors - give me (Tom Tucker) a call at (716) 474-3005, or email at at ttucker@rochester.rr.com

For more information please click here: TourGreensWNY.com

Comments: ttucker@rochester.rr.com

Love your practice, own your swing, own your health,

Tom



---


Golf Lessons

I conduct lessons at The Plum Creek Driving Range & Practice Facility
there's a link for Plum Creek info here: http://www.tomtuckergolf.com/

Lessons are available for all ages and skill levels, please contact
me - Tom Tucker - at (716) 474 3005 or email me at ttucker@rochester.rr.com
for more information.

Outdoor Lessons Details and Rates:
http://www.tomtuckergolf.com/lessonrates.html

Indoor Lessons Details and Rates:
http://www.tomtuckergolf.com/indoor.html

Driver Fitting Rates:
http://www.tomtuckergolf.com/indoor.html

Testimonials:
http://www.tomtuckergolf.com/testimonials.html


Sponsors

Plum Creek Driving Range and Simulator Outdoor range and play indoor golf on any of our 40 Simulator Courses. Call 585-993-0930 or email Mark at plumcreek4@rochester.rr.com to reserve time for simulator play or practice!

Batavia Country Club (585) 343-7600 www.bataviacc.com
Great rates, the best greens in WNY. Golf Digest Four Star rating for public courses to play in New York State.

Tee times online or by phone in season.

League openings for Monday Women's League, Monday, Tuesday, and Thursday Men's Leagues, and Friday Couples Leagues. Click here for more information: Leagues Leagues are always looking for substitutes. If you like the thought of playing in a league ocassionally but not every week, please call and sign up as a substitute.

BCC is now accepting reservations for Easter Brunch, Sunday April 1st, 10am - 3pm. Call (585) 334-8367 for reservations, and check here Batavia Country Club for more details.

BCC is looking for one male and one female member to represent them as BCC's delegate at the Rochester District Golf Association. Click here for details: RDGA Delegate Program, if you are interested contact Chris Pompa at BCC

Tour Greens Western New York Practice with purpose in your own back yard on your own synthetic practice green. Our greens LOVE Western New York weather!

Chestnut Hill Country Club (585)-547-3613 www.chestnuthillgolf.com
THE WESTERN NEW YORK LEADER IN GOLF OUTINGS!
Only minutes from Buffalo, open to the public. Tee times online or by phone in season.

Whether you are searching for a home for your existing golf league, or want to join as an individual(s), Chestnut Hill has a league option for you. Click here for more information: Leagues

All the best,

Tom Tucker
Teaching Pro, Plum Creek Driving Range & Practice Facility
WGTF ' "Top 100 Golf Teacher"
USGTF Class "A" Teaching Professional
IGPA Certified Golf Psychology Coach
Cell: (716) 474-3005
Email: ttucker@rochester.rr.com
http://www.TomTuckerGolf.com

"There are no substitutes in the quest for perfection!"
~ Ben Hogan