Prepare to play your best golf by doing something now!



Tom's Featured Tip: Dangerous Lies
Tour Greens: Tour Quality Synthetic Greens
Lesson Comments: What Students Have To Say
Sponsors: Plum Creek Driving Range
Batavia Country Club
Tour Greens Western New York
Chestnut Hill Country Club


Click here: INDOOR GOLF LESSONS for details on how to improve your game over the winter.

Plum Creek Driving Range, Batavia, NY, Open All Year
Simulator Course Play Specials: BataviaGolf.com Call 585-993-0930 or Email Mark to reserve simulator time!

Buy Gift Certificates for Lessons Sample Gift Certificate

Golf lessons - Outdoor and Indoor - are available at Plum Creek, please call me at 716 474 3005, email me at ttucker@rochester.rr.com, or visit my website at http://www.tomtuckergolf.com/lessonrates.html for details.

Subscribe - http://www.tomtuckergolf.com/signup.html If you like this newsletter, please do me a favor and forward it to your friends so that they may subscribe, thanks!

The Unsubscribe link is at the bottom of this newsletter.



---


Tom's Featured Tip: Dangerous Lies

For simplicity, all advice on actual swings or drills is provided from a right handed perspective.

I was talking on the phone last week with my oldest son Tom, who now lives in Nolanville, Texas. Tom was the Assistant Pro at the Tan Tara Golf Club in North Tonawanda NY, and the Head Pro at Willowbrook Golf Course in Lockport NY, before he left the golf industry for other business pursuits.

He had some good news and some bad news.

The good news was that he had just joined the Wildflower CC in Temple Texas, and in his first round he had a hole in one on hole 6, a 170ish par three that plays uphill. He thinks that's his 10th (or 11th) hole in one. He's up on me 10 (or 11) to zero.

The bad news centered around what he thought was an innocuous injury he incurred when we were playing golf in Florida about three years ago.

It turned out to be kind of a hard luck weekend for Tom back then. Two days before we went golfing, we were watching a movie at the Marco Island dinner theatre. He was sitting on a high barstool type stool that collapsed and sent his head bouncing off a table and into a wall.

He was out cold for a minute or so, so we took him to the hospital and he ended up being OK.

A couple days later, we were out golfing and he ended up with a lie near the base of a tree that looked like it could possibly have some underlying tree root issues.

Of course he wouldn't take a drop because we were playing for a few bucks and a lot of bragging rights. He struck the ball then grabbed his left hand and winced with pain after his clubhead struck a root just below the surface. At the time he thought that he had just jammed his hand, and never sought any medical follow up.

Tommy's not one to run to a doctor for anything he deems to be minor, but after three years he had suffered enough intermittent pain that he decided to see one.

He went to a specialist, Dr. Erik Lovria, an orthopedic surgeon in Harker Heights, TX, who - being a small world and all - turns out to be the son of Jim Lovria that Tom worked within Batavia when Tom was in his early twenties.

It was determined that Tom's hand area had not healed correctly from the golfing injury, and that he had avascular necrosis - the death of bone tissue due to a lack of blood supply - in the two middle fingers on his left hand. Dr. Lovria told Tommy that he'll lose all use of those fingers after a long period of time, and of course they are looking further into everything.

So the moral of this story is not to try to get this type of injury to help you get a hole in one.

It's this: inspect your lie to make sure there are no tree roots or rocks around it when your ball ends up in an area that's suspect. If there are obstacles to your swing or your follow through, take the drop and the penalty stroke. You'll be better much off for it in the long run.

If you are a professional golfer or an amateur with an expert level of control over your angle of attack, you might get away with hitting off of embedded roots or rocks - but it's probably not worth the risk.

I won't deny that I've hit plenty of shots off of rocky lies and off tree roots. Even though I suffered a few injuries, I continued to do that - but I'm telling you now that I'm not going to do it any more.

Better to be safe than sorry.

Comments: ttucker@rochester.rr.com

Love your practice, own your swing, own your health,

Tom



---


Tour Greens: Tour Quality Synthetic Greens For Superb Short Game Practice

Our customers love their practice greens, here's what they have to say: Testimonials

Click on the image below for a video demonstration of how well golf shots hold on our Tour Greens synthetic putting greens.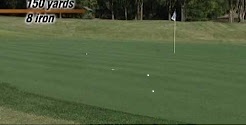 Wouldn't you love one of these in your own back yard?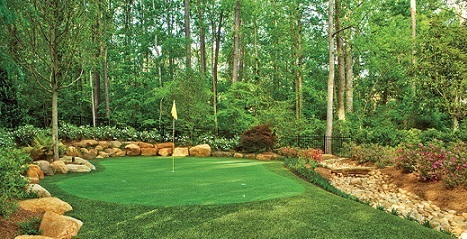 If you would like a free, no obligation quote for getting a beautiful practice area or putting green installed on your property - indoors or outdoors - give me (Tom Tucker) a call at (716) 474-3005, or email at at ttucker@rochester.rr.com

For more information please click here: TourGreensWNY.com

Comments: ttucker@rochester.rr.com

Love your practice, own your swing, own your health,

Tom



---


Golf Lessons

I conduct lessons at The Plum Creek Driving Range & Practice Facility
there's a link for Plum Creek info here: http://www.tomtuckergolf.com/

Lessons are available for all ages and skill levels, please contact
me - Tom Tucker - at (716) 474 3005 or email me at ttucker@rochester.rr.com
for more information.

Outdoor Lessons Details and Rates:
http://www.tomtuckergolf.com/lessonrates.html

Indoor Lessons Details and Rates:
http://www.tomtuckergolf.com/indoor.html

Driver Fitting Rates:
http://www.tomtuckergolf.com/indoor.html

Testimonials:
http://www.tomtuckergolf.com/testimonials.html


Sponsors

Plum Creek Driving Range and Simulator Outdoor range and play indoor golf on any of our 40 Simulator Courses. Call 585-993-0930 or email Mark at plumcreek4@rochester.rr.com to reserve time for simulator play or practice!

Batavia Country Club (585) 343-7600 www.bataviacc.com
Great rates, the best greens in WNY. Golf Digest Four Star rating for public courses to play in New York State.

Tee times online or by phone in season.

Course Open This Friday and Saturday - With Carts Day to day after that depending on the weather, now accepting tee time requests.

Tour Greens Western New York Practice with purpose in your own back yard on your own synthetic practice green. Our greens LOVE Western New York weather!

Chestnut Hill Country Club (585)-547-3613 www.chestnuthillgolf.com
THE WESTERN NEW YORK LEADER IN GOLF OUTINGS!
Only minutes from Buffalo, open to the public. Tee times online or by phone in season.

Course Opening This Friday - With Carts Day to day after that depending on the weather, now accepting tee time requests.

All the best,

Tom Tucker
Teaching Pro, Plum Creek Driving Range & Practice Facility
WGTF ' "Top 100 Golf Teacher"
USGTF Class "A" Teaching Professional
IGPA Certified Golf Psychology Coach
Cell: (716) 474-3005
Email: ttucker@rochester.rr.com
http://www.TomTuckerGolf.com

"There are no substitutes in the quest for perfection!"
~ Ben Hogan