Prepare to play your best golf by doing something now!



Tom's Featured Tip: Q&A: Hitting Off The Toe
Tour Greens: Tour Quality Synthetic Greens
Lesson Comments: What Students Have To Say
Sponsors: Plum Creek Driving Range
Batavia Country Club
Tour Greens Western New York
Chestnut Hill Country Club


Click here: INDOOR GOLF LESSONS for details on how to improve your game over the winter.

Plum Creek Driving Range, Batavia, NY, Open All Year
Simulator Course Play Specials: BataviaGolf.com Call 585-993-0930 or Email Mark to reserve simulator time!

Buy Gift Certificates for Lessons Sample Gift Certificate

Golf lessons - Outdoor and Indoor - are available at Plum Creek, please call me at 716 474 3005, email me at ttucker@rochester.rr.com, or visit my website at http://www.tomtuckergolf.com/lessonrates.html for details.

Subscribe - http://www.tomtuckergolf.com/signup.html If you like this newsletter, please do me a favor and forward it to your friends so that they may subscribe, thanks!

The Unsubscribe link is at the bottom of this newsletter.



---


Tom's Featured Tip: Q&A: Hitting Off The Toe

For simplicity, all advice on actual swings or drills is provided from a right handed perspective.

Q: Hi Tom, I cleaned my clubs today and notice I'm striking my shots more towards the toe then the center of my club. All I can think of is I'm not standing close enough to the ball along with concentrating on good shoulder turn (towels under my armpits).

Do you have a fix?

Thanks,

Rich B.

A: Thanks for the question Rich.

Your question is unusual - not in that you are not hitting the center of the clubface - rather that you are hitting it more frequently on the toe than the heel. I would say that 85% of my students that hit off center do so towards the heel rather than the toe.

When your mis-hit is towards the heel you lose more distance exponentially than when your mis-hit is towards the toe, but with either type of miss your accuracy will suffer.

Your thought of not standing close enough might be the answer, but I'm thinking that you are just naturally pre-disposed to hitting it towards the toe.

If setting up closer to the ball doesn't resolve your strike pattern, try these fixes to move the strike towards the center of the clubface.
Swing with a little more weight on your toes. A drill you can do to feel that is taking practice swings with a 2"x4" board under your heels. (NOTE: if you have the problem of hitting it closer to the heel of the face than the toe, take practice swings with your toes on a 2"x4" board)


Set up a gate with tees and swing through the gate to force a center hit. Position the ball so that it will be a center face strike.



Set the tees closer as you become more proficient with your strike.


Use foot spray powder on the face of your club to monitor each swing to see where contact is being made.




Or, you can do the opposite - put a dot of dry erase marker ON THE BALL, position the dot so that you'll make contact in that area when you make your swing, then observe where the dot appears on the face after your strike.



This is a bit more time consuming than using foot spray, but personally I prefer it because you'll see a very precise strike pattern on the face of the club. I actually use a smaller dot than pictured above, and it leaves a smaller but very precise mark on the clubface.
Practicing this way should solve your problem Rich. Keep me posted on your results! Thanks, Tom

Comments: ttucker@rochester.rr.com

Love your practice, own your swing, own your health,

Tom



---


Tour Greens: Tour Quality Synthetic Greens For Superb Short Game Practice

Our customers love their practice greens, here's what they have to say: Testimonials

Click on the image below for a video demonstration of how well golf shots hold on our Tour Greens synthetic putting greens.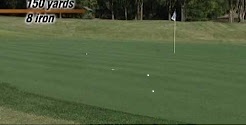 Wouldn't you love one of these in your own back yard?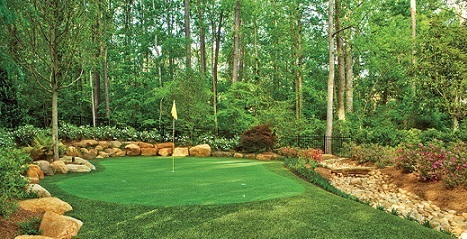 If you would like a free, no obligation quote for getting a beautiful practice area or putting green installed on your property - indoors or outdoors - give me (Tom Tucker) a call at (716) 474-3005, or email at at ttucker@rochester.rr.com

For more information please click here: TourGreensWNY.com

Comments: ttucker@rochester.rr.com

Love your practice, own your swing, own your health,

Tom



---


Golf Lessons

I conduct lessons at The Plum Creek Driving Range & Practice Facility
there's a link for Plum Creek info here: http://www.tomtuckergolf.com/

Lessons are available for all ages and skill levels, please contact
me - Tom Tucker - at (716) 474 3005 or email me at ttucker@rochester.rr.com
for more information.

Outdoor Lessons Details and Rates:
http://www.tomtuckergolf.com/lessonrates.html

Indoor Lessons Details and Rates:
http://www.tomtuckergolf.com/indoor.html

Driver Fitting Rates:
http://www.tomtuckergolf.com/indoor.html

Testimonials:
http://www.tomtuckergolf.com/testimonials.html


Sponsors

Plum Creek Driving Range and Simulator Outdoor range and play indoor golf on any of our 40 Simulator Courses. Call 585-993-0930 or email Mark at plumcreek4@rochester.rr.com to reserve time for simulator play or practice!

Batavia Country Club (585) 343-7600 www.bataviacc.com
Great rates, the best greens in WNY. Golf Digest Four Star rating for public courses to play in New York State.

Tee times online or by phone in season.

Ping Demo Day at BCC Thursday May 24th, 3pm - 6pm

Tour Greens Western New York Practice with purpose in your own back yard on your own synthetic practice green. Our greens LOVE Western New York weather!

Chestnut Hill Country Club (585)-547-3613 www.chestnuthillgolf.com
THE WESTERN NEW YORK LEADER IN GOLF OUTINGS!
Only minutes from Buffalo, open to the public. Tee times online or by phone in season.

All the best,

Tom Tucker
Teaching Pro, Plum Creek Driving Range & Practice Facility
WGTF ' "Top 100 Golf Teacher"
USGTF Class "A" Teaching Professional
IGPA Certified Golf Psychology Coach
Cell: (716) 474-3005
Email: ttucker@rochester.rr.com
http://www.TomTuckerGolf.com

"There are no substitutes in the quest for perfection!"
~ Ben Hogan