Prepare to play your best golf by doing something now!



Tom's Featured Tip: Learn From Tiger's Putting Woes
Product Review: The Caddie Basket Pro
Lesson Comments: What Students Have To Say
Sponsors: Plum Creek Driving Range
Batavia Country Club
Chestnut Hill Country Club


Click here: INDOOR GOLF LESSONS for details on how to improve your game over the winter.

Plum Creek Driving Range, Batavia, NY, Open All Year
Simulator Course Play Specials: BataviaGolf.com Call 585-993-0930 or Email Mark to reserve simulator time!

Buy Gift Certificates for Lessons Sample Gift Certificate

Golf lessons - Outdoor and Indoor - are available at Plum Creek, please call me at 716 474 3005, email me at ttucker@rochester.rr.com, or visit my website at http://www.tomtuckergolf.com/lessonrates.html for details.

Subscribe - http://www.tomtuckergolf.com/signup.html If you like this newsletter, please do me a favor and forward it to your friends so that they may subscribe, thanks!

The Unsubscribe link is at the bottom of this newsletter.



---


Tom's Featured Tip: Learn From Tiger's Putting Woes

For simplicity, all advice on actual swings or drills is provided from a right handed perspective.

I watched the Memorial Tournament over the weekend and hoped that my man Tiger would break out of his non-winning slump, but a balky putter dictated that it was not to be the case. His driving wasn't bad, his ball striking was world class - really good enough to win any tournament - but his putting, which used to be the best part of his game, was sub par. Actually it was bad.

I watched a little of the analysis on Golf Channel, and normally I can't stand Brandel Chamblee (Tiger Hater) because he micro analyzes everything Tiger does, and in my educated opinion he usually gets it wrong.

This time, however, I think that he and one of his co announcers - Karen Stupples - may have identified an important facet in Tiger's setup that is contributing to his recent poor putting.

They compared his setup in this years' Memorial to his setup in 2013 when he was one of the best putters in the world.

They noticed that this year his eyes have been outside of the ball in his putting setup, when it used to be inside the ball a little when he putted his best. Then they wondered if his back had anything to do with it, etc. but they didn't explain what happens when you set up that way.

First of all, if you have a dominant right eye, your eyes setup - according to optical experts - should be slightly inside the ball. That's because - according to the experts - your nose interferes with your vision more if your eyes are over the ball, or outside the ball. If you are left eye dominant, your eyes should be positioned directly over the ball - with one caveat: if you have a slightly arcing stroke like Tiger does, eyes slightly inside the ball works better.

One clue that makes me believe that his eye position is affecting his putting negatively is that he was nearly perfect on makeable putts that broke fairly severely from left to right BUT very erratic on straight, right to left, and marginal left to right breaking putts.

Eyes positioned too far outside the ball would favor that trend, as it's easier to see the line on left to right breakers from that position, but difficult for any other putt especially with a slightly arcing stroke like Tiger's.

The speed of some of his putts also got away from him, which I feel could also be attributed to stroke technique variance due to eye position.

Here's what this means for you:
Determine your dominant eye.
Set your eyes over the ball accordingly.
Consider developing a straight back - straight through stroke, which is more forgiving than an arcing stroke.
Here's another mental tip for putting - imagine all of your putts to be "possibly" makeable.

It's disadvantageous in the long haul to stand over every putt and think "I can make this" becuse there's a mental hangover if you miss.

Instead think " I can possibly make this putt" and put a good stroke on the ball. If you miss, you won't carry the same amount of mental baggage that you do from a miss that you absolutely said you could make.

Comments: ttucker@rochester.rr.com

Product Review: The Caddie Basket Pro

Last year, a friend of mine - Steve Frieday - was practicing at the Plum Creek Driving Range where I conduct my lessons told me about a product called the Caddie Basket that I should look into.

I found the site at CaddieBasketGolf.com and I contacted the owner, David Simmons who seemed like a great guy. He said that he was developing the second generation basket, and tjhat he'd send me one to test and review when it was in production.

That happened in April of this year, and I've been using my The Caddie Basket Pro at my lessons and I honestly don't know how I got along without it.

If you happen to be in the golf teaching profession, or if you practice a lot, you've simply go to have one of these.

I don't use mine for ball storage, I put other training aids in there. It holds everything I need and more, and I love how easy it makes it to take video with your phone. It's very un-complicated.

In the interest of disclosure, I did get my unit to test and review for free, other than that I don't make a dime for recommending this product. I do so because I'm sold on it.

The price is $159, and I think it's worth every penny.

Here are a few photo's that I took today when I was using it, and a few images I pulled off of off of Caddie Basket Pro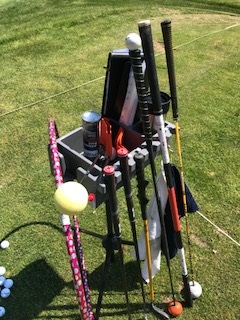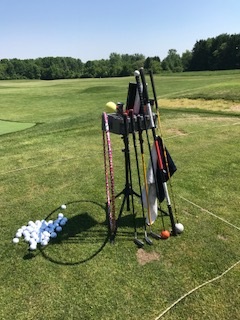 Comments: ttucker@rochester.rr.com

Love your practice, own your swing, own your health,

Tom



---


Golf Lessons

I conduct lessons at The Plum Creek Driving Range & Practice Facility
there's a link for Plum Creek info here: http://www.tomtuckergolf.com/

Lessons are available for all ages and skill levels, please contact
me - Tom Tucker - at (716) 474 3005 or email me at ttucker@rochester.rr.com
for more information.

Outdoor Lessons Details and Rates:
http://www.tomtuckergolf.com/lessonrates.html

Indoor Lessons Details and Rates:
http://www.tomtuckergolf.com/indoor.html

Driver Fitting Rates:
http://www.tomtuckergolf.com/indoor.html

Testimonials:
http://www.tomtuckergolf.com/testimonials.html


Sponsors

Plum Creek Driving Range and Simulator Outdoor range and play indoor golf on any of our 40 Simulator Courses. Call 585-993-0930 or email Mark at plumcreek4@rochester.rr.com to reserve time for simulator play or practice!

Batavia Country Club (585) 343-7600 www.bataviacc.com
Great rates, the best greens in WNY. Golf Digest Four Star rating for public courses to play in New York State.

Tee times online or by phone in season.

Chestnut Hill Country Club (585)-547-3613 www.chestnuthillgolf.com
THE WESTERN NEW YORK LEADER IN GOLF OUTINGS!
Only minutes from Buffalo, open to the public. Tee times online or by phone in season.

All the best,

Tom Tucker
Teaching Pro, Plum Creek Driving Range & Practice Facility
WGTF ' "Top 100 Golf Teacher"
USGTF Class "A" Teaching Professional
IGPA Certified Golf Psychology Coach
Cell: (716) 474-3005
Email: ttucker@rochester.rr.com
http://www.TomTuckerGolf.com

"There are no substitutes in the quest for perfection!"
~ Ben Hogan