Prepare to play your best golf by doing something now!



Tom's Featured Tip: 3 Visuals To Help You Shape Your Shots
Lesson Comments: What Students Have To Say
Sponsors: Plum Creek Driving Range
Batavia Country Club
Chestnut Hill Country Club


Click here: INDOOR GOLF LESSONS for details on how to improve your game over the winter.

Plum Creek Driving Range, Batavia, NY, Open All Year
Simulator Course Play Specials: BataviaGolf.com Call 585-993-0930 or Email Mark to reserve simulator time!

Buy Gift Certificates for Lessons Sample Gift Certificate

Golf lessons - Outdoor and Indoor - are available at Plum Creek. Please call me (Tom Tucker) at 716 474 3005, email me at ttucker@rochester.rr.com, or visit my website at http://www.tomtuckergolf.com/lessonrates.html for details.

Subscribe - http://www.tomtuckergolf.com/signup.html If you like this newsletter, please do me a favor and forward it to your friends so that they may subscribe, thanks!

The Unsubscribe link is at the bottom of this newsletter.


---


Tom's Featured Tip: 3 Visuals To Help You Shape Your Shots

For simplicity, all advice on actual swings or drills is provided from a right handed perspective.

Shot shaping - curving the ball either way or hitting it straight - is often considered to be an advanced skill. I disagree, because the physics involved in hitting shots that curve encompass the basic tenets of ball striking.

Ball striking is the first lesson on the agenda when a student opts for a five lesson package with me, and the first thing we cover in that lesson are the rules of ball flight.

It's a pretty simple concept:
The initial starting direction of a ball's flight is caused by face angle: it starts wherever the face is pointing. It's not the swingpath that causes the initial direction, the swing path causes the curvature. To be 100% precise, the ball starts wherever it's pointing around 85% of the time - the driver can be the exception due to the bulge and roll manufactured into a driver's face.


Ball flight curvature occurs when there is a difference between the direction where the clubface is pointing and the direction of the swingpath at impact.
It's really no more complicated than that.

It's been said that a picture is worth a thousand words, so here are three images to burn this curvature concept into your brain.



STRAIGHT SHOT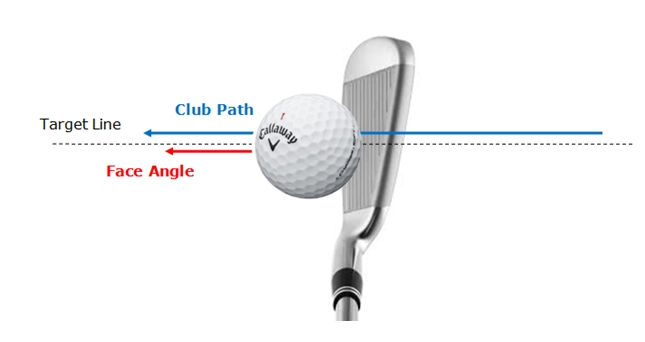 For a straight shot, your clubface angle and your swing path angle need to match up.



DRAW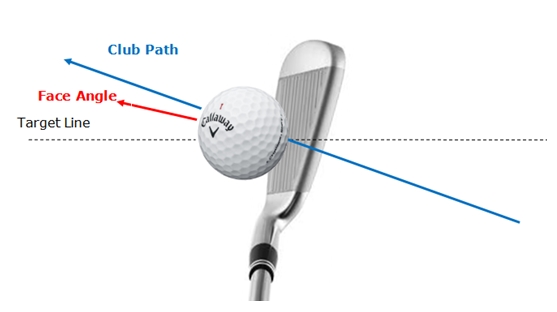 If you have access to a simulator, you would like to see a 50% relationship between your face angle and swing path to produce a soft draw. If your outward swing path measured 4 degrees, you would like to have the face closed 2 degrees to that path.



FADE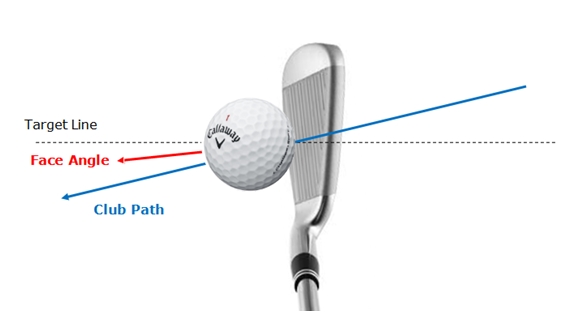 For a slight fade, you would shoot for an inward swing path measuring 4 degrees, with the face open 2 degrees to that path.

For either direction of curvature, when the degree of difference between the face direction and the swingpath increases or decreases, the severity of the curvature changes accordingly.

If you don't have access to a simulator, you can still experiment with the feel for the amount of closed or open clubface to your swingpath and observe the curvature. I actually prefer that a student learns to curve the ball this way on the range, to get a feel for actually causing the curvature.

I could expound on drills and technique tips for producing curvature, but I'm not going to.

Here's why: if you understand the principles involved for curving the ball, you can figure the rest out yourself. And when you do, the technique comes along for free as an added benefit because you've taught it to yourself.

In addition to the information on how to curve the ball, there's another important lesson to be learned here: understand the physics behind the shot you want to hit, then experiment at the range until you can execute that shot.

When you teach yourself to master a skill that way, it sticks.

Try it, you'll like it.

Comments: ttucker@rochester.rr.com

Love your practice, own your swing, own your health,

Tom



---


Golf Lessons

I conduct lessons at The Plum Creek Driving Range & Practice Facility
there's a link for Plum Creek info here: http://www.tomtuckergolf.com/

Lessons are available for all ages and skill levels, please contact
me - Tom Tucker - at (716) 474 3005 or email me at ttucker@rochester.rr.com
for more information.

Outdoor Lessons Details and Rates:
http://www.tomtuckergolf.com/lessonrates.html

Indoor Lessons Details and Rates:
http://www.tomtuckergolf.com/indoor.html

Testimonials:
http://www.tomtuckergolf.com/testimonials.html


Sponsors

Plum Creek Driving Range and Simulator Outdoor range and play indoor golf on any of our 40 Simulator Courses. Call 585-993-0930 or email Mark at plumcreek4@rochester.rr.com to reserve time for simulator play or practice!

Batavia Country Club (585) 343-7600 www.bataviacc.com
Great rates, the best greens in WNY. Golf Digest Four Star rating for public courses to play in New York State.

Tee times online or by phone in season.

Pre-pay for a 2018 membership now and your membership will apply to the rest of this year!

FISH FRYS ARE BACK AT BCC and other dinner specials with soup and salad bar - starting Friday October 5th, 4pm - 9pm

Chestnut Hill Country Club (585)-547-3613 www.chestnuthillgolf.com
THE WESTERN NEW YORK LEADER IN GOLF OUTINGS!
Only minutes from Buffalo, open to the public.

Tee times online or by phone in season.

All the best,

Tom Tucker
Teaching Pro, Plum Creek Driving Range & Practice Facility
WGTF ' "Top 100 Golf Teacher"
USGTF Class "A" Teaching Professional
IGPA Certified Golf Psychology Coach
Cell: (716) 474-3005
Email: ttucker@rochester.rr.com
http://www.TomTuckerGolf.com

"There are no substitutes in the quest for perfection!"
~ Ben Hogan