Prepare to play your best golf by doing something now!



Tom's Featured Tip: Ben Hogan Advice That You Should Not Heed
Lesson Comments: What Students Have To Say
Sponsors: Plum Creek Driving Range
Batavia Country Club
Chestnut Hill Country Club


Click here: INDOOR GOLF LESSONS for details on how to improve your game over the winter.

Plum Creek Driving Range, Batavia, NY, Open All Year
Simulator Course Play Specials: BataviaGolf.com Call 585-993-0930 or Email Mark to reserve simulator time!

Buy Gift Certificates for Lessons Sample Gift Certificate

Golf lessons - Outdoor and Indoor - are available at Plum Creek. Please call me (Tom Tucker) at 716 474 3005, email me at ttucker@rochester.rr.com, or visit my website at http://www.tomtuckergolf.com/lessonrates.html for details.

Subscribe - http://www.tomtuckergolf.com/signup.html If you like this newsletter, please do me a favor and forward it to your friends so that they may subscribe, thanks!

The Unsubscribe link is at the bottom of this newsletter.


---


Tom's Featured Tip: Ben Hogan Advice That You Should Not Heed

For simplicity, all advice on actual swings or drills is provided from a right handed perspective.

First of all, Happy Thanksgiving Everyone! As you read this, my wife and I are in Texas visiting my two sons Tom and Tim - and we're getting aquainted with our first great grandaughter Tatum Mallory Tucker! Life is good.

This week's article is short but very sweet. Learn from it.

I am a huge Ben Hogan fan, and I utilize some of what he teaches in his various books for my own swing and in my golf instruction.

One of my favorite books is "Ben Hogan's Five Lessons, The Modern Fundamentals of Golf". However, there is one piece of advice in that book that could do more harm than good: the grip.

Here's the grip that Hogan recommends in his books: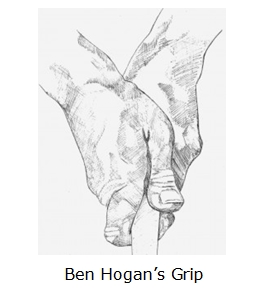 This grip is a neutral to weak grip. If you read his books and blindly adopt this grip, you'll probably be seeing me or another instructor for a lesson to correct a slice.

Hogan was a prolific "hooker" of the golf ball, and to counter that he adopted a weaker grip. It worked for him, and it will work for you if you hook the ball all the time.

The problem is that about 98% of the people learning to play golf are natural slicers, not hookers, and this grip will only make that problem worse.

For the average player, I recommend a stronger grip position like the one below.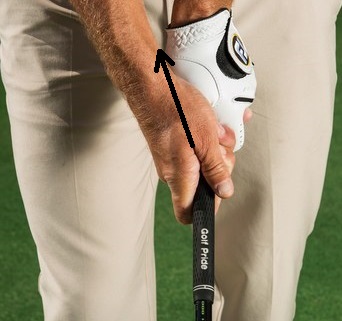 The "V" on the right hand should point towards the right shoulder



A stronger than neutral grip will help you release the clubhead. "Releasing" the clubhead is simply squaring the clubface up at impact (the strike).

Keep these two points in mind as you experiment with your grip:
A stronger grip promotes a good release, and it also promotes a draw.


A weaker grip cures a release that's too aggressive (hooking the ball too much), and promotes a straighter ball flight or even a fade.
A consistent curvature to your shots is one thing that every high level player strives for. Keep these two rules in mind and experiment to find the grip that works best for your swing, and you'll begin to see some consistent curvature on your shots.

When that happens, it will be a major breakthrough for your scoring.

Try it, you'll like it.

Comments: ttucker@rochester.rr.com

Love your practice, own your swing, own your health,

Tom



---


Golf Lessons

I conduct lessons at The Plum Creek Driving Range & Practice Facility
there's a link for Plum Creek info here: http://www.tomtuckergolf.com/

Lessons are available for all ages and skill levels, please contact
me - Tom Tucker - at (716) 474 3005 or email me at ttucker@rochester.rr.com
for more information.

Outdoor Lessons Details and Rates:
http://www.tomtuckergolf.com/lessonrates.html

Indoor Lessons Details and Rates:
http://www.tomtuckergolf.com/indoor.html

Testimonials:
http://www.tomtuckergolf.com/testimonials.html


Sponsors

Plum Creek Driving Range and Simulator Outdoor range and play indoor golf on any of our 40 Simulator Courses. Call 585-993-0930 or email Mark at plumcreek4@rochester.rr.com to reserve time for simulator play or practice!

Batavia Country Club (585) 343-7600 www.bataviacc.com
Great rates, the best greens in WNY. Golf Digest Four Star rating for public courses to play in New York State.

Tee times online or by phone in season.

Pre-pay for a 2019 membership now and your membership will apply to the rest of this year!

FISH FRYS ARE BACK AT BCC and other dinner specials with soup and salad bar - starting Friday October 5th, 4pm - 9pm

Chestnut Hill Country Club (585)-547-3613 www.chestnuthillgolf.com
THE WESTERN NEW YORK LEADER IN GOLF OUTINGS!
Only minutes from Buffalo, open to the public.

Tee times online or by phone in season.

All the best,

Tom Tucker
Teaching Pro, Plum Creek Driving Range & Practice Facility
WGTF ' "Top 100 Golf Teacher"
USGTF Class "A" Teaching Professional
IGPA Certified Golf Psychology Coach
Cell: (716) 474-3005
Email: ttucker@rochester.rr.com
http://www.TomTuckerGolf.com

"There are no substitutes in the quest for perfection!"
~ Ben Hogan