If you don't take action, you'll never improve.
Prepare to play your best golf by doing something now!



Tom's Featured Tip: Can Lines On Your Ball Help You Putt Better?
Lesson Comments: What Students Have To Say
Sponsors: Plum Creek Driving Range
Batavia Country Club
Chestnut Hill Country Club


Click here: INDOOR GOLF LESSONS for details on how to improve your game over the winter.

Plum Creek Driving Range, Batavia, NY, Open All Year
Simulator Course Play Specials: BataviaGolf.com Call 585-993-0930 or Email Mark to reserve simulator time!

Buy Gift Certificates for Lessons Sample Gift Certificate

Golf lessons - Outdoor and Indoor - are available at Plum Creek. Please call me (Tom Tucker) at 716 474 3005, email me at TomTuckerGolf@gmail.com, or visit my website at http://www.tomtuckergolf.com/lessonrates.html for details.

Subscribe - http://www.tomtuckergolf.com/signup.html If you like this newsletter, please do me a favor and forward it to your friends so that they may subscribe, thanks!

The Unsubscribe link is at the bottom of this newsletter.


---


Tom's Featured Tip: Can Lines On Your Ball Help You Putt Better?

For simplicity, all advice on actual swings or drills is provided from a right handed perspective.

Sunday I was going through my email and I read one from EyelineGolf.com that said:

It has been awesome watching Nate Lashley have such an incredible week! You could see him using our Impact Ball Liner during the tv coverage.

It is amazing what a huge difference the nail head design on your ball can make. You have total confidence in your aim and a very simple thought as you stand over every putt! You've gotta try this!

For what it's worth, Lashley - who was the last man allowed in to the field - went on to win the tournament with a score of -25, 6 shots better than 2nd place.

Here's what this Impact Ball Liner ball marker looks like: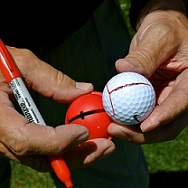 Impact Ball Liner



A few years I was experimenting with lines on my ball, and was drawing a curved line on the ball freehand similar to the one in the ball liner template above. Mine had a more pronounced curve to it and it was a thicker line.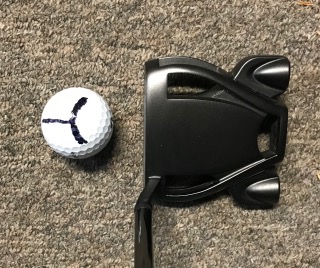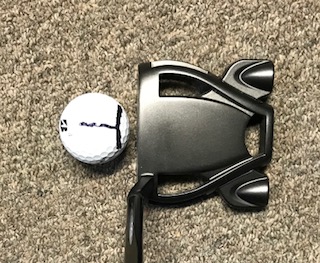 Hand Drawn Line


If you mark your ball with the curved line then rotate it a bit backwards, it looks like a straight line that will allow you to align your putterface parallel to it to indicate that the face is square to your aimline.

The ball liner template from EyelineGolf.com above took it two steps further, it added the line going towards the hole, then it added the nail head line. Their curved line is not as curved as the one I was experimenting with, nor is it as thick.

I don't know why they called it the Nail Head design, maybe because of that notch in the middle and also to avoid any patent infringement. When I did mine, I checked the US Patent database and there were enough close calls to discourage me from doing anything commercial with it.

They might have called it the curved line design, because that's the line that really matters, especially on short putts.

While I agree that "speed" for distance control is the most important aspect of lag putting, I would say that for about 35% of your putts (relatively short putts) squareness of your putterface to your aimline actually trumps speed as your first consideration.

For that reason I heartily endorse the curved line concept in conjunction with the straight line. Forget the nail head.

If you don't want to bother with trying to put a good curved and straight line on your ball freehand, this Impact Ball Liner is really a good buy with one caveat: Make the curved line thicker freehand after you stencil it on. For everyone's information, I don't have any type of affiliation with Eyeline Golf with this product. I'm recommending this Impact Ball Liner product solely on merit.

And answer to the question is "YES, CORRECT LINES ON A BALL CAN ACTUALLY HELP YOU PUTT BETTER"

Comments: ttucker@rochester.rr.com

Love your practice, own your swing, own your health,

Tom


---


Golf Lessons

I conduct lessons at The Plum Creek Driving Range & Practice Facility
there's a link for Plum Creek info here: http://www.tomtuckergolf.com/

Lessons are available for all ages and skill levels, please contact
me - Tom Tucker - at (716) 474 3005 or email me at ttucker@rochester.rr.com
for more information.

Outdoor Lessons Details and Rates:
http://www.tomtuckergolf.com/lessonrates.html

Indoor Lessons Details and Rates:
http://www.tomtuckergolf.com/indoor.html

Testimonials:
http://www.tomtuckergolf.com/testimonials.html


Sponsors


Plum Creek Driving Range and Simulator Outdoor range and play indoor golf on any of our 40 Simulator Courses. Call 585-993-0930 or email Mark at plumcreek4@rochester.rr.com to reserve time for simulator play or practice!

Batavia Country Club (585) 343-7600 www.bataviacc.com
Great rates, the best greens in WNY.
Golf Digest Four Star rating for public courses to play in New York State.
Tee times online or by phone in season.
FISH FRYS AT BCC and other delicious dinner specials with soup and salad bar - Fridays, 4pm - 9pm Served in the dining area of the lower level snack bar for the summer season.

Chestnut Hill Country Club (585)-547-3613 www.chestnuthillgolf.com
THE WESTERN NEW YORK LEADER IN GOLF OUTINGS!
Only minutes from Buffalo, open to the public.
Tee times online or by phone in season.

All the best,

Tom Tucker
Teaching Pro, Plum Creek Driving Range & Practice Facility
WGTF ' "Top 100 Golf Teacher"
USGTF Class "A" Teaching Professional
IGPA Certified Golf Psychology Coach
Cell: (716) 474-3005
Email: TomTuckerGolf@gmail.com
http://www.TomTuckerGolf.com

"There are no substitutes in the quest for perfection!"
~ Ben Hogan