If you don't take action, you'll never improve.
Prepare to play your best golf by doing something now!



Tom's Featured Tip: Bounce and Grind Your Way To Better Scoring
Lesson Comments: What Students Have To Say
Sponsors: Plum Creek Driving Range
Batavia Country Club
Chestnut Hill Country Club
SuperSpeedGolf.com Click on the link to buy this swing speed training aid and increase your distance off the tee.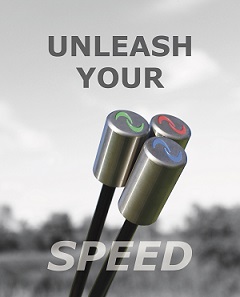 I bought the men's set set and I love them. Browse their site for great FREE swing speed training outlines and great FREE webinars on demand. Buying through my affiliate link here: SuperSpeedGolf.com also helps support this free newsletter.
Try 'em, you'll absolutely like them.

Click here: INDOOR GOLF LESSONS for details on how to improve your game over the winter.

Plum Creek Driving Range, Batavia, NY, Open All Year
Simulator Course Play Specials: BataviaGolf.com Call 585-993-0930 or Email Mark to reserve simulator time!

Buy Gift Certificates for Lessons Sample Gift Certificate

Golf lessons - Outdoor and Indoor - are available at Plum Creek. Please call me (Tom Tucker) at 716 474 3005, email me at TomTuckerGolf@gmail.com, or visit my website at http://www.tomtuckergolf.com/lessonrates.html for details.

Subscribe - http://www.tomtuckergolf.com/signup.html If you like this newsletter, please do me a favor and forward it to your friends so that they may subscribe, thanks!

The Unsubscribe link is at the bottom of this newsletter.


---
Please Click Here 2019 Junior Golf Camp for articles and photos of the Batavia Country Club 2019 Junior Golf Camp
---


Tom's Featured Tip: Bounce and Grind Your Way To Better Scoring

For simplicity, all advice on actual swings or drills is provided from a right handed perspective.

During my chipping lessons, I always get a few questions on the bounce and grind of wedges. This subject can be very confusing, but matching your wedge set makeup with the type of course you play can definitely help your short game. Read on to see how.

BOUNCE

Bounce is the downward angle of the sole of a wedge (or any golf club actually) from the leading edge to the trailing edge, measured in degrees from the pure horizontal plane (i.e. the turf). Typically, the bounce angle as it applies to wedges ranges from 5-8 degrees, to the 12-15 degrees. The higher the degree of bounce, the more the sole of the club will tend to contact - or be "rejected" by - the turf.

The "effective bounce" of a wedge is a function of both that measured bounce angle and the width of the sole. For example, a narrow sole with 12 degrees of bounce might perform almost the same as a wider sole with 8 degrees of bounce. In today's marketplace, there are narrow sole wedges with bounce angles as high as 30-40 degrees, while the early lob wedges had very wide soles and claimed bounce angles of almost zero - but they really were not that. Since you are always making some degree of a descending blow to the golf ball, a negative bounce wedge would be more of a shovel than a wedge. And if part of the sole has a "negative bounce," where the sole's surface slants back upwards from the plane of the turf, then that part of the sole is going to have a very minimal effect on turf interaction.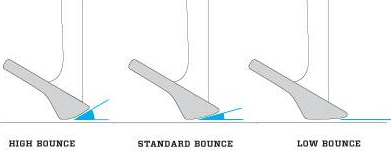 GRINDS

Some players like a sharper leading edge, while others want it more rounded. Some like a pretty straight leading edge, while others prefer some curvature from heel to toe. The options are practically endless when you are standing next to the guy on the wheel actually doing the grinding.

They also talk about "toe relief", "heel relief" and a nearly whole alphabet of specific grinds - 'C', 'K', etc. But all these are proprietary references by the manufacturers, and there are no set of "standards" as to what each grind really is. That makes it tough on average golfers to figure out what will serve them best. The market leader alone offers at least six different "stock" grinds, and other brands have their own countless variations as well. So how do you make sense of all that and choose the sole design that will serve you best?

I believe that only the very best golfers can really tell the difference between grinds and sole designs that differ only slightly from one another. Because tour players spend thousands of hours honing their wedge skills, they can feel subtle differences that the average golfer will never feel. And the major brands bend over backwards to accommodate their staff professionals. These guys and ladies can fully appreciate the subtle nuances of one wedge to another that might look identical to an untrained eye. A one or two degree difference in bounce, or a sole width that is only 50 thousandths of an inch wider or narrower can make a difference to these elite players. But since they get to test and try wedges provided to them for free, so they can experiment all they want.

It has been my observation that even the very best recreational golfers typically do not approach this acute level of skill, but I have seen some that can detect differences that would escape notice of even active recreational golfers of more "average" skills.

Here are a few thoughts to help you find your way to wedge specs that you can use.

First of all, the potentially negative effect of the "wrong" bounce is much less on full swing shots than it is on the short delicate shots around the greens Clubhead speed can make up for a lot. Unless the bounce angle of the wedge is just a terrible match to your most common full swing path, I think close is good enough in this aspect.

In general, however, I think if you play the thicker lush turf of the northern U.S., you will benefit from a more bounce and/or wider sole than if you play the typically tighter turf of the south and southwest.

This is a generalization, but it holds pretty true.

Secondly, I do not believe you can fit bounce off of artificial turf, as even the best mats do not really imitate the real thing, where you will encounter different grasses, grain against and/or with your shot direction, etc. There is simply no substitute for trying different bounce options on the course that you play most often. Hitting shots you face regularly from the variety of turf conditions you encounter on a round-in, round-out basis. If you are serious about trying to get the right wedge, you simply have to hit a wide variety of shots with a demo wedge to see how it performs under all conditions and shot types.

For a serious player, there are no shortcuts in this process.

To accurately evaluate any of the various bounce angles and grinds in search of the best wedges for YOU, you must take them to your course and hit the shots you hit regularly to see how they react to YOUR technique and conditions. In this wedge trial and testing process, put most of your focus on your bunker shots and a variety of short shots around the greens. If you take the time to do this, I'll pretty much guarantee that you'll find one or two bounce/grind combinations that separate themselves from the rest as best FOR YOU.

I talk about "discovery" a lot with my students. This is a great example of how to discover which bounce and grind combination is best for your game.

Discovery rarely comes quickly or easily, but it's always worth it.

Comments: ttucker@rochester.rr.com

Love your practice, own your swing, own your health,

Tom


---


Golf Lessons

I conduct lessons at The Plum Creek Driving Range & Practice Facility
there's a link for Plum Creek info here: http://www.tomtuckergolf.com/

Lessons are available for all ages and skill levels, please contact
me - Tom Tucker - at (716) 474 3005 or email me at ttucker@rochester.rr.com
for more information.

Outdoor Lessons Details and Rates:
http://www.tomtuckergolf.com/lessonrates.html

Indoor Lessons Details and Rates:
http://www.tomtuckergolf.com/indoor.html

Testimonials:
http://www.tomtuckergolf.com/testimonials.html


Sponsors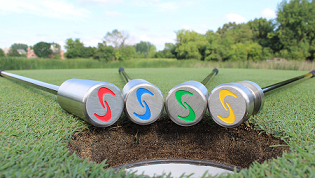 Click here SuperSpeedGolf.com to buy this swing speed training aid and increase your distance off the tee. I bought the Coaches set and I love them. Browse their site for great FREE swing speed training outlines and great FREE webinars on demand. Buying through my affiliate also helps support this free newsletter. Try 'em, you'll like them.

Plum Creek Driving Range and Simulator Outdoor range and play indoor golf on any of our 40 Simulator Courses. Call 585-993-0930 or email Mark at plumcreek4@rochester.rr.com to reserve time for simulator play or practice!

Batavia Country Club (585) 343-7600 www.bataviacc.com
Great rates, the best greens in WNY.
Golf Digest Four Star rating for public courses to play in New York State.
Tee times online or by phone in season.
FISH FRYS AT BCC and other delicious dinner specials with soup and salad bar - Fridays, 4pm - 9pm Served in the dining area of the lower level snack bar for the summer season.

Chestnut Hill Country Club (585)-547-3613 www.chestnuthillgolf.com
THE WESTERN NEW YORK LEADER IN GOLF OUTINGS!
Only minutes from Buffalo, open to the public.
Tee times online or by phone in season.

All the best,

Tom Tucker
Teaching Pro, Plum Creek Driving Range & Practice Facility
WGTF ' "Top 100 Golf Teacher"
USGTF Class "A" Teaching Professional
IGPA Certified Golf Psychology Coach
Cell: (716) 474-3005
Email: TomTuckerGolf@gmail.com
http://www.TomTuckerGolf.com

"There are no substitutes in the quest for perfection!"
~ Ben Hogan