If you don't take action, you'll never improve.
Prepare to play your best golf by doing something now!



Tom's Featured Tip: Toe Down Chipping
Lesson Comments: What Students Have To Say
Sponsors: Plum Creek Driving Range
Batavia Country Club
Chestnut Hill Country Club
SuperSpeedGolf.com Click on the link to buy this swing speed training aid and increase your distance off the tee.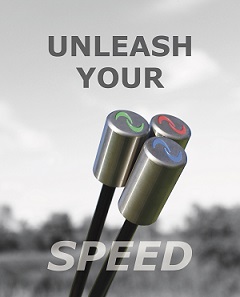 Used by over 600 Tour Professionals including Phil Mickleson, Billy Horschel, Matt Kuchar, Ian Poulter, Bryson DeChambeau, Paul Casey, Jon Rahm and many, many others! Check out this video where Jason Gravely increases his swing speed after only 18 swings with the SuperSpeed Golf swing speed training clubs. The Fastest Way to Increase Your Club Head Speed

To increase your swing speed, Order Your Set Here

I train with the men's set set and I love them. Browse their site for great FREE swing speed training outlines and great FREE webinars on demand. Buying through my affiliate link here: SuperSpeedGolf.com also helps support this free newsletter.
Try 'em, you'll absolutely like them.

Click here: INDOOR GOLF LESSONS for details on how to improve your game over the winter.

Plum Creek Driving Range, Batavia, NY, Open All Year
Simulator Course Play Specials: BataviaGolf.com Call 585-993-0930 or Email Mark to reserve simulator time!

Buy Gift Certificates for Lessons Sample Gift Certificate

Golf lessons - Outdoor and Indoor - are available at Plum Creek. Please call me (Tom Tucker) at 716 474 3005, email me at TomTuckerGolf@gmail.com, or visit my website at http://www.tomtuckergolf.com/lessonrates.html for details.

Subscribe - http://www.tomtuckergolf.com/signup.html If you like this newsletter, please do me a favor and forward it to your friends so that they may subscribe, thanks!

The Unsubscribe link is at the bottom of this newsletter.


---


Tom's Featured Tip: Toe Down Chipping

For simplicity, all advice on actual swings or drills is provided from a right handed perspective.

I think that you are going to find todays tip to be short but very sweet if you give it a try.

It's about an alternate way to set up and execute short chip shots that's been used by some touring pro's that had deft touch around the greens when they were in their prime: Paul Azinger, Ray Floyd, and Dave Stockton to name a few. I think Steve Stricker uses it too.

I teach my heirarchy of shot selection for ball that are just off the green as follows:
Putt
Chip (ball that rolls more than it flies)
Pitch (ball that fies more than a chip shot)
Flop (highest trajectory of all, use only when absolutly necessary, it's the toughest shot to master)
I've been thinking about a different chipping technique than my normal choice for about six months now, and I'll probably put it in play for the rest of this season to see how it works.

I finally got my "shoot my age goal" for this birth year out of the way last Saturday, so I can experiment a little. I was sweating it out because I turn 73 in October, and I have a "shoot my age streak" going since age 68, but my trusty old two ball putter got red hot and I got 'er done.

The technique that has me curious is basically the same technique that I use when I'm putting with my hybrid: crowding the ball a little bit and setting up with the toe down so that the heel of the club is less likely to strike the ground before the sole of the club.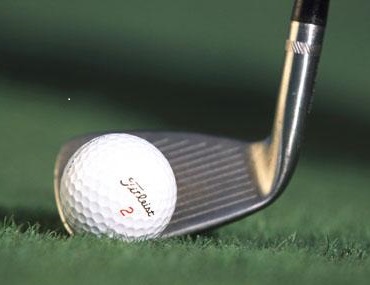 It's going to require some reps to nail down:
how much I want the face down and the heel up
alignment
ball position
and effective distance for this shot, which will fly less and check less than a traditional chip shot method
I think it will be worth the effort because it virtually eliminates chunks due to premature heel contact with the ground that destroy your direction and strike contact.

I'm thinking that it will be vastly superior from the first cut of rough off the green. I have a son that swears by it for longer pitch shots, but I'm not quite there yet. Maybe in time if the shorter shots pan out.

It's basically a toe down, heel up setup with a putting stroke technique. Pretty simple concept, and I really like the thought of eliminating heel and hosel grabs from surrounding grass.

Here's how I plan on setting up and up and executing this modified chipping technique:
Crowd the ball


Raise the heel of the club up and lower the toe, experiment with degrees of up and down


Ball position - middle will be my default for now, a bit further forward from longer grass


Club selection - good lie, Gap Wedge, PW, 9,8, depending on the roll out desired


Club selection - poor lie, more loft - maybe even more of a pitch shot swing with a normal grip


Narrow stance as usual


Very slight forward press for a small amount of shaft lean


Choke down a bit for control


Use a putting stroke, with or without your putting grip - exeriment with both


As with a putting stroke, arms and shoulders, very minimal body rotation. This is the big change for me.


Don't allow your wrists to break down (flip) through impact
As I've said many times before, golf is a game of discovery, so I'm going to try and discover if there's a use for this technique in my game.

How about you? It might be worth a try.

Comments: TomTuckerGolf@gmail.com

Love your practice, own your swing, own your health,

Tom


---


Golf Lessons

I conduct lessons at The Plum Creek Driving Range & Practice Facility
there's a link for Plum Creek info here: http://www.tomtuckergolf.com/

Lessons are available for all ages and skill levels, please contact
me - Tom Tucker - at (716) 474 3005 or email me at TomTuckerGolf@gmail.com
for more information.

Outdoor Lessons Details and Rates:
http://www.tomtuckergolf.com/lessonrates.html

Indoor Lessons Details and Rates:
http://www.tomtuckergolf.com/indoor.html

Testimonials:
http://www.tomtuckergolf.com/testimonials.html


Sponsors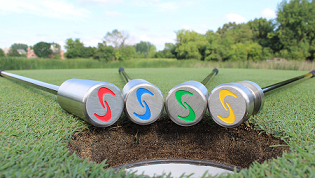 Click here SuperSpeedGolf.com to buy this swing speed training aid and increase your distance off the tee. I bought the Coaches set and I love them. Browse their site for great FREE swing speed training outlines and great FREE webinars on demand. Buying through my affiliate also helps support this free newsletter. Try 'em, you'll like them.

Plum Creek Driving Range and Simulator Outdoor range and play indoor golf on any of our 40 Simulator Courses. Call 585-993-0930 or email Mark at plumcreek4@rochester.rr.com to reserve time for simulator play or practice!

Batavia Country Club (585) 343-7600 www.bataviacc.com
Great rates, the best greens in WNY.
Golf Digest Four Star rating for public courses to play in New York State.
Tee times online or by phone in season.
FISH FRYS AT BCC and other delicious dinner specials with soup and salad bar - Fridays, 4pm - 9pm Served in the dining area of the lower level snack bar for the summer season.

Chestnut Hill Country Club (585)-547-3613 www.chestnuthillgolf.com
THE WESTERN NEW YORK LEADER IN GOLF OUTINGS!
Only minutes from Buffalo, open to the public.
Tee times online or by phone in season.

All the best,

Tom Tucker
Teaching Pro, Plum Creek Driving Range & Practice Facility
WGTF ' "Top 100 Golf Teacher"
USGTF Class "A" Teaching Professional
IGPA Certified Golf Psychology Coach
Cell: (716) 474-3005
Email: TomTuckerGolf@gmail.com
http://www.TomTuckerGolf.com

"There are no substitutes in the quest for perfection!"
~ Ben Hogan