Prepare to play your best golf by doing something now!



Tom's Featured Tip: Lessons - Sequencing For Learning
Tour Greens: Tour Quality Synthetic Greens
Tom's Bonus Tip: Rules Change Involving Rangefinders
Lesson Comments: What Students Have To Say
Sponsors: Plum Creek Driving Range
Batavia Country Club
Tour Greens Western New York
Genesee Community College Golf Management Program


Click here: INDOOR GOLF LESSONS for details on how to improve your game over the winter.

Plum Creek Driving Range, Batavia, NY, Open All Year
Simulator Course Play Specials: BataviaGolf.com Call 585-993-0930 or Email Mark to reserve simulator time!

Buy Gift Certificates for Lessons Sample Gift Certificate

Golf lessons - Outdoor and Indoor - are available at Plum Creek, please call me at 716 474 3005, email me at ttucker@rochester.rr.com, or visit my website at http://www.tomtuckergolf.com/lessonrates.html for details.

Subscribe - http://www.tomtuckergolf.com/signup.html If you like this newsletter, please do me a favor and forward it to your friends so that they may subscribe, thanks!

The Unsubscribe link is at the bottom of this newsletter.



---


Tom's Featured Tip: Lessons - Sequencing For Learning

For simplicity, all advice on actual swings or drills is provided from a right handed perspective.

Every now and then, when I'm speaking to a student about lessons they ask me why I put the ball striking lesson ahead of the putting lesson in my Fundamentals Five Lesson Package.

I'll lay out the exact lesson package later in this article so that you can set up your own sequence for learning if you prefer to teach yourself vs, obtaining professional instruction. Either way could work as long as you know enough about the swing you want to own.

Notice that I said swing you want to own, not learn. Owning your swing involves a deeper commitment that learning a swing, and that's how I want my students to think right from the start. Learn it, then own it.

The question about sequencing is a fair enough question, since many instructors choose to work from the hole outward on their lesson packages, meaning putting first then progression through shorter to longer swings.

As far as I know I am the first instructor in the WNY area to take the approach of ball striking as the first lesson. I should say "was" the first instructor, because I see that some of my competition is trying to copy that model now.

That's all good because it's the best approach for a student, and that's what golf instruction should be all about.

The reason that I take that approach is that there are many details that are called fundamentals in golf, such as grip, posture, stance, weight distribution, etc. Although these details are important, they can vary greatly from golfer to golfer, amateur and pro alike. So I call these details variable fundamentals, meaning that each of us have a lot of latitude on executing these aspects.

The only absolute fundamentals far as I'm concerned, are the impact positions for a full or partial swing, and the impact positions for putting. Good impact positions are absolutely necessary to play good golf, so that's why I set my lesson sequencing in my packages as I do.

At the ball striking lesson I also cover the rules of ball flight, which I also feel are a necessity early on so that the student gains an understanding of cause and effect. The student and I also discuss exactly how a golf swing works, so that they can begin to develop a concept for their own swing. Of course there is always tweaking involved no matter what type of swing method the student gravitates to because no two people swing the club exactly the same.

That's where a professional eye is often an advantage.

Here is how I sequence my lessons for the Fundamentals Five Lesson Package. If you are teaching yourself a golf swing, use this sequence as a guide for your progression. If you would like professional instruction, please contact me.


Ball Flight Laws - Ball Striking This lesson covers the cornerstone of any good swing. It's probably the most important lesson any golfer should take, because what you learn at this lesson will benefit every swing you'll ever need to use in golf.

The focus of this lesson is to learn the reasons why a ball starts out in a certain direction, and what makes it curve in a certain way. Then you will learn the correct body and club positions for the "moment of truth" in golf, the impact position when the ball is compressed by the clubhead.

If there is one absolute fundamental in golf, it's the correct body and club positions at impact. At your Ball Flight Laws - Ball Striking lesson you'll learn how to get to the impact position correctly - and when you can do that consistently, you're on your way to being able to play the game.

Impact is what it's all about.


Putting during the fundamental putting lesson we discuss equipment and how environmental and other factors affect putting. The student will also

learn a putting grip
learn a repeatable putting stroke,
learn how to develop a stock putting stroke to become a good lag putter,
learn to stroke a putt directly down their intended aimline,
learn how to stroke short putts,
learn drills to continue practicing correctly on your own


The student will leave this lesson with a thorough understanding of the fundamentals of putting. Virtually every student that has taken the fundamental putting lesson has cut down on their "three putt" holes, which will improves scoring in a hurry. Steve Williams, Tiger Woods' old caddie, tracked a statistic that was very telling - when Tiger woods didn't three putt, he won 85% of the time!

In my opinion, there is no reason why anyone can not become an excellent putter if they know what to do and are willing to practice.

After this lesson, students will know what to do and how to practice.

That brings up the "practice" part, and it's very specific to the course you are playing. You need to get the feel for the speed of the greens at any specific course on any specific day by getting to the course early and testing the speed of the greens as you are taught in the fundamental putting lesson. When you understand how to prepare like this and do so, you will approach the first tee with confidence.


Chipping Covers proper chipping technique to develop a "skull proof" chipping stroke. If a student is a poor chipper, he or she will be much improved after this lesson.


Full Swing - Lesson One


Full Swing - Lesson Two At the two full swing lessons, students are taught an efficient, repeatable, full swing method for irons and for the driver.
For information on rates, click here: Lesson Rates, and please contact me if you need help with your game.

Comments: ttucker@rochester.rr.com

Love your practice, own your swing, own your health,

Tom



---


Tour Greens: Tour Quality Synthetic Greens For Superb Short Game Practice

Do you want one of these in your own back yard?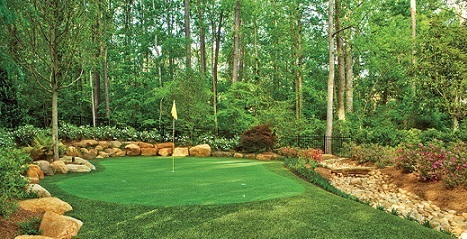 If you would like a free, no obligation quote for getting a beautiful practice area or putting green installed on your property - indoors or outdoors - give me (Tom Tucker) a call at (716) 474-3005, or email at at ttucker@rochester.rr.com

For more information please click here: TourGreensWNY.com

Comments: ttucker@rochester.rr.com

Love your practice, own your swing, own your health,

Tom



---


Tom's Bonus Tip: Rules Change Involving Rangefinders

For simplicity, all advice on actual swings or drills is provided from a right handed perspective.

Rule 14.3 - Artificial Devices - Lasers with slope are now legal in tournament play (not on the PGA Tour), under local rules, if the slope is turned off.

So now you donít need to swap faceplates to change the function, or do anything to the device to make it look different, you just need to have the ability to turn off slope during that tournament round. If the feature is turned off, the device is legal.

I'll probably get a dual purpose rangefinder, I've used a single purpose laser rangefinder up until now.

For the life of me I don't know why they don't allow their use on tour, it would certainly help speed up play.

Comments: ttucker@rochester.rr.com

Love your practice, own your swing, own your health,

Tom



---



Golf Lessons

I conduct lessons at The Plum Creek Driving Range & Practice Facility
there's a link for Plum Creek info here: http://www.tomtuckergolf.com/

Lessons are available for all ages and skill levels, please contact
me - Tom Tucker - at (716) 474 3005 or email me at ttucker@rochester.rr.com
for more information.

Outdoor Lessons Details and Rates:
http://www.tomtuckergolf.com/lessonrates.html

Indoor Lessons Details and Rates:
http://www.tomtuckergolf.com/indoor.html

Driver Fitting Rates:
http://www.tomtuckergolf.com/indoor.html

Testimonials:
http://www.tomtuckergolf.com/testimonials.html


Sponsors

Plum Creek Driving Range and Simulator Outdoor range and play indoor golf on any of our 40 Simulator Courses. Call 585-993-0930 or email Mark at plumcreek4@rochester.rr.com to reserve time for simulator play or practice!

Batavia Country Club (585) 343-7600 www.bataviacc.com
Great rates, the best greens in WNY. Golf Digest Four Star rating for public courses to play in New York State. Tee times online or by phone in season. BCC has a large supply of PING equipment in stock. Stop by and see what's new for 2016.

Taking reservations for Mother's Day Brunch, see our website for more details www.bataviacc.com (585) 343-7600

Tour Greens Western New York Practice with purpose in your own back yard on your own synthetic practice green. Our greens LOVE Western New York weather!

Genesee Community College Golf Management Program Click on link for more information if you or anyone you know is interested in a dynamic career in the golf industry, or in teaching golf.

All the best,

Tom Tucker
Teaching Pro, Plum Creek Driving Range & Practice Facility
WGTF ' "Top 100 Golf Teacher"
USGTF Class "A" Teaching Professional
IGPA Certified Golf Psychology Coach
Cell: (716) 474-3005
Email: ttucker@rochester.rr.com
http://www.TomTuckerGolf.com

"There are no substitutes in the quest for perfection!"
~ Ben Hogan