If you don't take action, you'll never improve.
Prepare to play your best golf by doing something now!



Tom's Featured Tip: 6 Good Reads While You're Quarantined
Lesson Comments: What Students Have To Say
Sponsors:
Plum Creek Driving Range
Batavia Country Club
SuperSpeedGolf.com Click on the link to buy this swing speed training aid and increase your distance off the tee.

TourGreens - VersaCourt Click Here To Watch Our Video

If you're interested in an artificial turf outdoor or indoor putting green, bocce court, sport court, tennis court, pet grass, etc., contact me, Tom Tucker, at (716) 474 3005 or email me at TomTuckerGolf@gmail.com for details and pricing. I'm the authorized New York State sales rep for TourGreens and VersaCourt with TourGreensWNY.com. We offer top shelf quality, and even more importantly - the best installers in the Northeast.

If your space or budget won't allow for a large green, we've developed a more compact solution - our Perfect Practice Stations. Click on the link for pricing and details.

Click on any image for more information.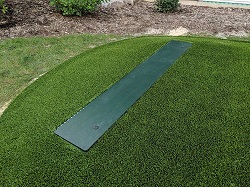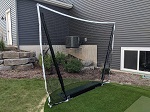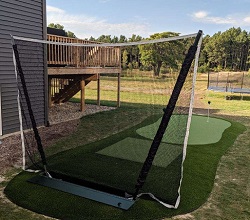 Above: Our "Dual Purpose" Perfect Practice Station - actually triple purpose: Full Swing, Greenside Chipping, and Putting practice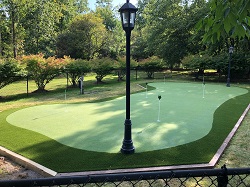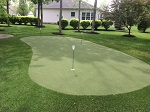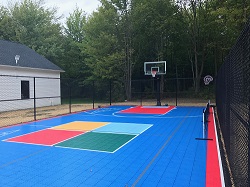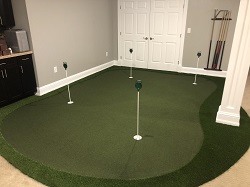 Above: Full Sized Outdoor Putting Greens, a beautiful Bocce Court, an awesome VersaCourt sports court, and an Indoor Putting Green that we installed for Jerry Hughes of the Buffalo Bills .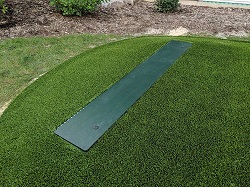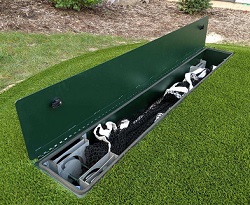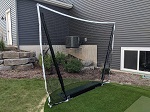 Above: The Crocbox - the perfect choice for a discreet practice net in your yard. Pop it up in 45 seconds, fold it down and close the weatherproof box lid when you're done. Click Through for the exclusive TomTuckerGolf Crocbox Discount .

TourGreensWNY.com Outdoor Greens Images
TourGreensWNY.com Indoor Greens Images
Perfect Practice Stations Images and Drawings
TourGreensWNY.com Bocce Ball Court Images
TourGreensWNY.com VersaCourt Images

The Crocbox Click through for details on the exclusive TomTuckerGolf discount available only to my newsletter readers.


---


Buy Gift Certificates for Lessons Sample Gift Certificate

Golf lessons - Outdoor and Indoor - are available at Plum Creek. Please call me (Tom Tucker) at 716 474 3005, email me at TomTuckerGolf@gmail.com, or visit my website at http://www.tomtuckergolf.com/lessonrates.html for details.

Subscribe - http://www.tomtuckergolf.com/signup.html If you like this newsletter, please do me a favor and forward it to your friends so that they may subscribe, thanks!

The Unsubscribe link is at the bottom of this newsletter.


---


Tom's Featured Tip: 6 Good Reads While You're Quarantined

For simplicity, all advice on actual swings or drills is provided from a right handed perspective.

Last issue I promised to give you some good books to read while in quarantine, here are 6 of my all time favorites. I re-read most of them annually.

Before I get to the books, the effort needed to become an expert in my field (or any field) has always been of interest to me.

One of my favorite rules of being an expert that kept coming up while researching the subject was the three book rule. If you were to read three good books about a topic, you would be an expert compared to 99% of the general population. Thatís all it takes. You don't need a degree or an expensive certification. You just need to read three good books.

Here's an interesting article on the subject:

The Three Book Rule To Become An Expert

The books below may present some swing method advice. When I teach golf, I'm not a method teacher, I don't try to pigeonhole a student into a specific method. Rather, I observe how it looks like their body wants to swing the club, then I add in some aspects of technique that will make them more efficient ball strikers.

Very rarely do I get a student that wants to learn a specific swing method, but when I do I accommodate.

When you read these books, I suggest that you read with an open mind, then try some aspect of the swing advice that you think might help your game. If you like all of the swing advice, try it out - but don't be afraid to just take parts and work it into your current swing.

Here are 6 of my all-time favorite books for getting better at golf, they are all available on Amazon.com.
The Talent Code: Greatness Isn't Born. It's Grown. Here's How.
by Daniel Coyle.

This is not golf-specific, but it's the first book you should read if you want to get better at the game. It changed my thinking on how to teach the game by giving me a deeper understanding of the learning process.

Coyle contends that talent is acquired. It is not an innate quality or gift that is given to some chosen few, nor is it something we are born with. Talent is the result of a definite process through which the learner acquires a brain composition (a substance called myelin) that separates them from the average learner.

He proves that learning comes from deep practice, and deep practice arises from trial and error.

I've read several of his books since the Talent Code, but the Talent Code was the most important book I've read on skill building, hands down. For me it was transformational. I read it at least once a year, it's that type of book. If you are serious about learning how to improve, read this book.


The Practice Manual
by Adam Young

If The Talent Code is the seminal book on how you learn a skill (it is), then The Practice Manual is the seminal resource on how to practice. It covers everything. Get it and use it, it's the most comprehensive practice resource that I've ever read.


The Stack and Tilt Swing: The Definitive Guide to the Swing That Is Remaking Golf
by Michael Bennett and Andy Plummer

Give yourself some time to read this book, there's a lot to digest. I consider it to be a Master's Thesis on the golf swing. As a teacher, this book has been an invaluable resource for my teaching as well as for my own swing improvement.

I use either some or a lot of what's contained in this book in my teaching, depending on how the student's body wants to swing the club.

I also use a lot - but not all - of what's taught in the book for my own swing.

Regardless of whether you specifically like this swing method, it's non - traditional, this book has so much great information on the golf swing that I consider it to be one of the best overall books on the swing that I've ever read - and I've read a ton of books on golf technique. It get's a bit technical at points, so much so that I invested in the Stack & Tilt 2.0 video to understand it as much as possible. I review both the book and video frequently, buy it and you'll see why.


Ben Hoganís Five Lessons: The Modern Fundamentals of Golf
by Ben Hogan

This is an oldie but a goodie. It's a quick read that's chock full of good information, but you need to read it critically. Not every bit of advice is good for every player. One example is Hogan's grip. Hogan was a "serial hooker", meaning that a hook was his big miss. As such, he changed his grip to cure the problem. If you tend to slice the ball - like about 95% of new players to the game do - this grip would exacerbate the problem, not cure it.

I like everything else in his book, but as I said earlier - pick what helps you, then consider adding it to your swing.


The Impact Zone: Mastering Golf's Moment of Truth
by Bobby Clampett

For me, good golf is all about impact, and this book is all about impact. It will definitely help you to understand the concept and to become a better ball striker, and it's a quick read.


The Eight-Step Swing, 3rd Edition
by Jim McLean

Jim's book is more about the traditional swing method than say The Stack and Tilt swing book, so you traditional swingers may be more comfortable with this read. I suggest that you read both and cherry pick the best ideas for your swing.

I bought an older version when I first started teaching to help me organize my lessons. It's very helpful in that it breaks down the swing into 8 parts, which will give you a good idea on how to evaluate different parts of your swing.

It's pretty basic and old-school, but there's nothing wrong with that.
If you read all of these books on this list, you'll be in the upper echelon of knowledgeable golfers.

Try it, you'll really like it!

Comments: TomTuckerGolf@gmail.com

Love your practice, own your swing, own your health,

Tom


---


Golf Lessons

I conduct lessons at The Plum Creek Driving Range & Practice Facility
there's a link for Plum Creek info here: http://www.tomtuckergolf.com/

Lessons are available for all ages and skill levels, please contact
me - Tom Tucker - at (716) 474 3005 or email me at TomTuckerGolf@gmail.com
for more information.

Outdoor Lessons Details and Rates:
http://www.tomtuckergolf.com/lessonrates.html

Indoor Lessons Details and Rates:
http://www.tomtuckergolf.com/indoor.html

Testimonials:
http://www.tomtuckergolf.com/testimonials.html


Sponsors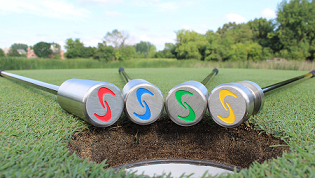 Click here SuperSpeedGolf.com to buy this swing speed training aid and increase your distance off the tee. I bought the Coaches set and I love them. Browse their site for great FREE swing speed training outlines and great FREE webinars on demand. Buying through my affiliate also helps support this free newsletter. Try 'em, you'll like them.

Plum Creek Driving Range and Simulator Outdoor range and play indoor golf on any of our 40 Simulator Courses. Call 585-993-0930 or email Mark at plumcreek4@rochester.rr.com to reserve time for simulator play or practice!

Batavia Country Club (585) 343-7600 www.bataviacc.com
Great rates, the best greens in WNY.
Golf Digest Four Star rating for public courses to play in New York State.
Tee times online or by phone in season.
FISH FRYS AT BCC and other delicious dinner specials with soup and salad bar - Fridays, 4pm - 9pm

All the best,

Tom Tucker
Teaching Pro, Plum Creek Driving Range & Practice Facility
WGTF ' "Top 100 Golf Teacher"
USGTF Class "A" Teaching Professional
IGPA Certified Golf Psychology Coach
Cell: (716) 474-3005
Email: TomTuckerGolf@gmail.com
http://www.TomTuckerGolf.com

"There are no substitutes in the quest for perfection!"
~ Ben Hogan