If you don't take action, you'll never improve.
Prepare to play your best golf by doing something now!



Tom's Featured Tip: Drive For Show - Putt For Dough? NO
Lesson Comments: What Students Have To Say
Sponsors & Affiliates:
Club Champion
Plum Creek Driving Range
Batavia Country Club

Click here SuperSpeedGolf.com to buy this swing speed training aid and increase your distance off the tee.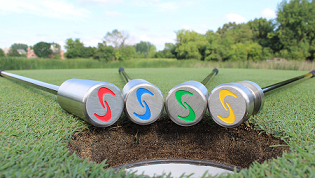 I bought the Coaches set and I love working out with them. Browse their site for great FREE swing speed training outlines and great FREE webinars on demand. Buying through my affiliate also helps support this free newsletter. Try 'em, you'll like them. SuperSpeedGolf.com Buy now and get to work on increasing your distance off the tee..

TourGreens & VersaCourt Click Here To Watch Our Video

If you're interested in an artificial turf outdoor or indoor putting green, bocce court, sport court, tennis court, pet grass, etc., contact me, Tom Tucker, at (716) 474 3005 or email me at TomTuckerGolf@gmail.com for details and pricing. I'm the authorized New York State sales rep for TourGreens and VersaCourt with TourGreensWNY.com. We offer top shelf quality, and even more importantly - the best installers in the Northeast.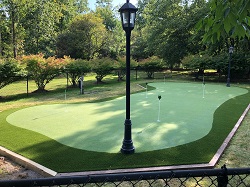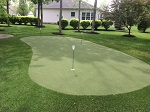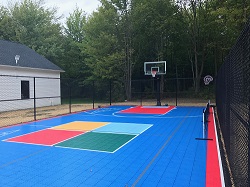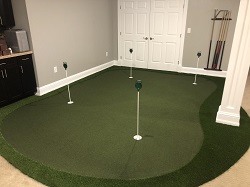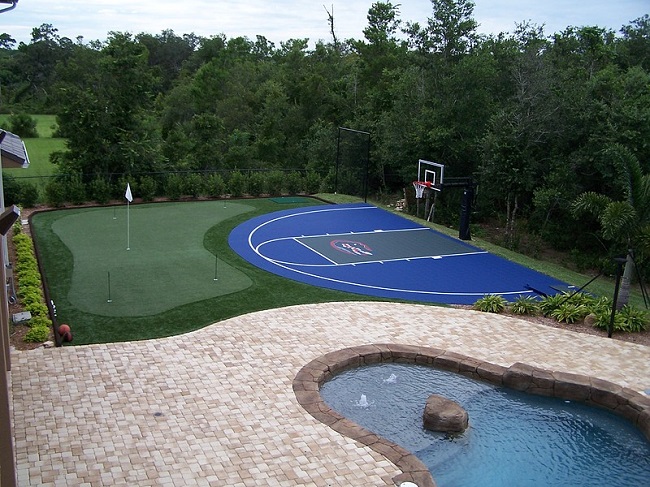 Above: Full Sized Outdoor Putting Greens, a beautiful Bocce Court, an awesome VersaCourt sports court, an Indoor Putting Green that we installed for Jerry Hughes of the Buffalo Bills, and a VersaCourt - Putting Green combination. .

TourGreensWNY.com Outdoor Greens Images
TourGreensWNY.com Indoor Greens Images
TourGreensWNY.com Bocce Ball Court Images
TourGreensWNY.com VersaCourt Images


---


Buy Gift Certificates for Lessons Sample Gift Certificate

Golf lessons - Outdoor and Indoor - are available at Plum Creek. Please call me (Tom Tucker) at 716 474 3005, email me at TomTuckerGolf@gmail.com, or visit my website at http://www.tomtuckergolf.com/lessonrates.html for details.

Subscribe - http://www.tomtuckergolf.com/signup.html If you like this newsletter, please do me a favor and forward it to your friends so that they may subscribe, thanks!

The Unsubscribe link is at the bottom of this newsletter.


---


Drive For Show - Putt For Dough? NO

For simplicity, all advice on actual swings or drills is provided from a right handed perspective.

========================================================

Yours truly was honored as a Top 100 Teacher for the WGTF for the 11th year in a row. Here's a link to the list in the Winter Edition of our Teaching Magazine WGTF 2020-2021 Top 100 Teacher List. There are a few good articles in there too if you have the time to scroll through.

For photos and stories from the 2020 Junior Golf Camp at BCC, click here:
2020 BCC Junior Golf Camp

For details on the 2021 Junior Golf Camp at BCC, click here:
2021 BCC Junior Golf Camp

========================================================

There's an old saying in golf "Drive For Show, Putt For Dough", but it's simply not valid anymore.

Of course you can't score well unless you are at least a competent putter, but there's a direct correlation between distance off the tee and money earnings on the PGA Tour. Generally speaking, the longest hitters make the most money.
More distance off the tee means
Shorter approach shots, which means
Shots landing closer to the hole, which means
More one putts, which means
More birdies (and eagles), which means
Lower scores
So I'm saying with absolute certainty that getting more distance off the tee will help any player at any level lower their scores.

If you are serious about lowering your scores, hitting it further off the tee should be a large part of your plans for improvement in 2021.

Here are several components involved with hitting the ball further that can be developed or enhanced.
Pure body strength. This can be improved with a good progressive resistance weight training regimen that can be done twice per week, for about an hour or less per session. My extensive research on this subject as it relates to golf has indicated that a full body routine with traditional exercises that work pushing and pulling weight on a vertical plane, pushing and pulling weight on a horizontal plane, and some leg work is totally sufficient. There is really no need for some of the exotic "golf specific" workouts that I often see advertised. Traditional weight work done correctly is absolutely and totally sufficient, and it doesn't need to be a huge time investment. If anyone wants a copy of a good twice weekly full body workout, send me an email and I'll send you my own routine. It's good for any age, only the amount of resistance will vary.


Stretching After years of researching this subject, I believe that a lot of extra stretching is not necessary. You should execute a brief rehearsal warmup for a movement you intend to execute for a golf swing or an exercise. One caveat - the older you get, the more important it is to do a brief rehearsal warmup of your intended motion done at slow, then medium speed.


Pure Swing Speed this can be developed. Here are a couple of older newsletter articles that will get you on the right track: Issues 590, 591, 596, and 599. They can be found here: Newsletter Archives I invested in the swing speed training aids from SuperSpeedGolf.com that I promote in this newsletter. I paid full price and tested their speed swing training clubs, then became an affiliate for their product because after training with them I added swing speed. SuperSpeedGolf.com Click on the link to buy this swing speed training aid and increase your distance off the tee. As I said, I use it in conjunction with my other training and it really works, even if you are a senior player.


Center Face Contact You can enhance this skill by actually practicing hitting balls of the toe, the heel, and the center of your driver clubface. Spray the clubface with Dr. Scholl's Foot Powder to monitor the ball contact point on the clubface, and practice with deliberate intention.


Use a Long Shaft on your driver, It will add yards of carry distance, but it does take some practice to get used to.


Use A Tee That Offers Minimal Resistance This is a real thing. When I coached college golf, our team used "Launcher Golf Tees". You pick up a bit more ball speed due to the reduced friction between the ball and the top of the tee, and every little bit counts. And another plus for these tees is that they are virtually indestructible. That's probably why they raised their price from when I first got them in 2010.
Last word on all of this - if you really want to get better, DON'T BE LAZY, DO THE WORK

Try it, you'll like it.

Comments: TomTuckerGolf@gmail.com

Love your practice, own your swing, own your health,

Tom


---


Golf Lessons

I conduct lessons at The Plum Creek Driving Range & Practice Facility
there's a link for Plum Creek info here: http://www.tomtuckergolf.com/

Lessons are available for all ages and skill levels, please contact
me - Tom Tucker - at (716) 474 3005 or email me at TomTuckerGolf@gmail.com
for more information.

Outdoor Lessons Details and Rates:
http://www.tomtuckergolf.com/lessonrates.html

Indoor Lessons Details and Rates:
http://www.tomtuckergolf.com/indoor.html

Testimonials:
http://www.tomtuckergolf.com/testimonials.html


Sponsors and Affiliates

Club Champion Don't waste another dollar on clubs until you've gone through a fitting at Club Champion, 1669 Pittsford Victor Rd., Suite 400, Victor NY 14564. Call Master Fitter & Builder Jeff St. John. PGA work: (585) 978-8513, cell: (585) 831-2292 to schedule your fitting today! Mention my name and you'll get special attention.


---


The Crocbox Click through for details on the exclusive TomTuckerGolf discount available only to my newsletter readers.

The perfect choice for a discreet practice net in your yard.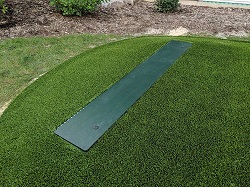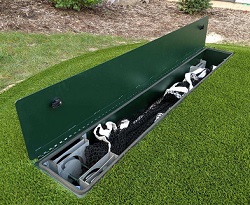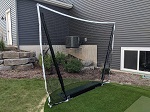 Pop it up in 45 seconds, fold it down and close the weatherproof box lid when you're done. Click Through for the exclusive TomTuckerGolf Crocbox Discount .


---


Plum Creek Driving Range and Simulator Outdoor range and play indoor golf on any of our 40 Simulator Courses. Call 585-993-0930 or email Mark at plumcreek4@rochester.rr.com to reserve time for simulator play or practice!


---


Batavia Country Club (585) 343-7600 www.bataviacc.com
Great rates, the best greens in WNY.
Golf Digest Four Star rating for public courses to play in New York State.
Tee times online or by phone in season.
FISH FRYS AT BCC and other delicious dinner specials with soup and salad bar - Fridays, 4pm - 9pm


---


All the best,

Tom Tucker
Teaching Pro, Plum Creek Driving Range & Practice Facility
WGTF ' "Top 100 Golf Teacher"
USGTF Class "A" Teaching Professional
IGPA Certified Golf Psychology Coach
Cell: (716) 474-3005
Email: TomTuckerGolf@gmail.com
http://www.TomTuckerGolf.com

"There are no substitutes in the quest for perfection!"
~ Ben Hogan